Frome Heritage Museum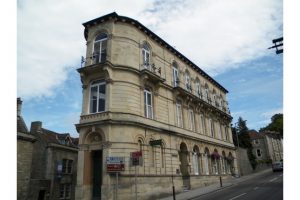 Frome Heritage Museum is located in the centre of the town in our historic listed building built for the Frome Literary and Scientific Institution and features local and industrial history collections of Frome and the surrounding area.
The Museum has extensive Library/Archive collections which contain a wealth of  information of interest to local and family historians.
There are two display rooms and a Library, with displays of many local industrial artefacts, maps & photos. The collections include local archaeological and historical artefacts related to the historical development of Frome and district.
Their collections include:
Industrial
Artefacts, documents, photographs and printed material illustrating the development of local industries are displayed.
Cloth Making
Cloth making was an important local industry.  Frome with its river and close proximity to the sheep areas of the Mendips, Cotswolds and Salisbury Plain, developed in Mediaeval times as an important centre for the making of cloth.
Metalworking
Of special importance is a large deposit of photographs and glass negatives from J.W.Singer & Sons Ltd. Art Metal Works showing the works in production and some of the fascinating statuary sent around the world. Many of these have been repaired & conserved and you will find a selection of high quality prints on display.
There is a permanent display of photographs, diagrams, plans & tools devoted to Fussell's Ironworks of Mells, who were significant edge-tool manufacturers in the 19th Century. You can also find information and displays on Cockey street lamps, which are still in use in Frome and Notts Industries' Carley Life Floats and sheet metal pressings
Printing
Printing has been a major industry in the town since 1783.  Over the past two hundred years, Frome has played host to a variety of small and medium-sized print offices and local papers, including the Somerset Standard, now the Frome Standard. There is a selection of machinery and production methods on show.
Historical
Artefacts, documents, photographs and printed material illustrating the historical development of Frome and district. Many fine maps, property and family information.
Costume
A collection of Victorian and later costumes, the most important of which came from the Horner family of Mells. Most of these are in storage.
Fine Art
A small collection of local material either of local people or views, or by local artists.
Geology and Archaeology
Frome Museum has a collection of local geology and archaeology objects and artefacts. The museum also holds an important collection of ice-age (Pleistocene) bones from a cave located on the edge of Frome at Stoke St Michael, Somerset which is not currently on display but which can be seen by appointment.
Exhibitions
The Museum features a diverse calendar of exhibitions, as well as their Cabinet of Curiosities, a series of fascinating displays planned by Frome Museum to celebrate local collectors and collecting.
Frome Heritage Museum
1 North Parade, Frome, Somerset. BA11 1AT