Wild about nature – den building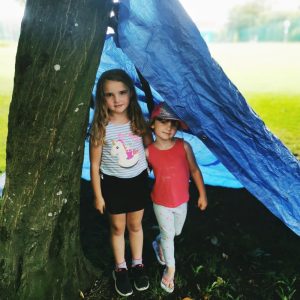 Building dens outdoors is a great activity to do as a family as it helps kids build problem-solving and teamwork skills. It's free and easy and can be done in local woodland or your back garden. We'll be bringing along some materials to Frome Children's Festival on Monday (23rd August) so you can have a go with the expert help of the Town Rangers, but booking in advance is essential. Then we'll be leaving some hazel poles kindly given to us by Longleat's forestry team and WRC's tree surgeons in Welshmill woods so you can go along any time to build a den.
To make your own den when you're out and about the only things you need are some long, sturdy sticks, preferably your height or taller. Here are some tips for making a den:
You can weave smaller, bendy sticks between the big ones to make your den more sturdy
Building your den against a tree trunk will make it much easier to get started
You can use some tarp, an old bed sheet or any fabric to cover your den and turn it into a cosy shelter
You can decorate with leaves, flowers (only pick ones that have had a chance to drop their seeds), and crafty bits and bobs like ribbons and yarn
The fun is in the building, so make sure you take your den apart before you go so that other people can build their own
Also make sure you take any non-natural materials home with you
Why not take a flask and pack some snacks to have a mini-picnic in your den?
Head back here next month for the next Wild About Nature activity and don't forget to take photos of your den building and tag us on Facebook, Twitter or Instagram.