Wild about nature – Create a simple bird feeder
Feel like getting creative with the kids and down with nature this weekend? Why not make a loo-roll bird feeder?
These simple, up-cycled feeders are great fun to create, pop them in your garden or outside space and see the birds will flock to your garden cafe.
They are super simple to make, follow our instructions below: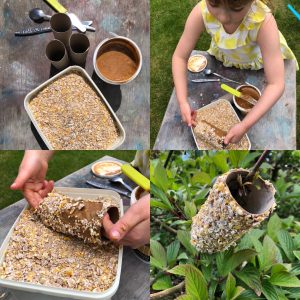 Step 1:   Gather all the materials, you will need:
Bird seed
No salt or no sugar peanut butter –  this is important as salt and sugar is not good for the birds
An empty toilet roll
A spoon or blunt knife to smear the peanut butter over the roll
Step 2: Pop the bird seed in a bowl to easily roll in; a recycled ice cream tub could be ideal as you can keep any leftover bird seed in it
Step 3: Smear loo roll in peanut butter and roll in the bird seed. Make sure you press the roll down onto the seed as you roll to get a really good coverage
Step 4: Hang on a branch in your garden tree and then watch the birds from afar come to the garden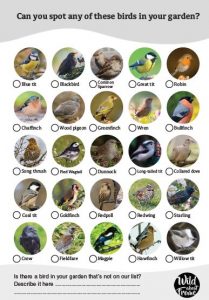 Step 5: Download our Garden Bird Checklist and you can see how many visitors you can tick off!
Don't forget to take a photo of your feeder and tag us on Facebook, Twitter or Instagram.
Check out other Wild about Nature activities here.