Volunteer at the Discover Frome Information Point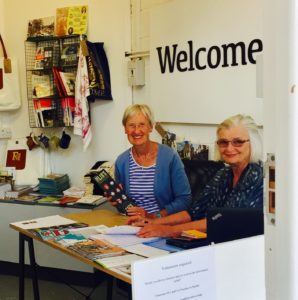 Frome Town Council are looking for friendly volunteers to join the team at Discover Frome Information Point and become Frome ambassadors.
Mayor Shiela Gore who also volunteers at the Information Point said "As a volunteer you will be part of a friendly team, providing helpful information for both visitors and residents. The information Point is centred around, arts and culture and events in Frome.  People come looking for anything from bus timetables and general directions, to information about events in town. There are also souvenirs and books available to purchase.  At Discover Frome we aim to assist the public in their enquiries as fully as possible, as such you will have access to the internet for anything needing further enquiry. This is a wonderful opportunity to represent Frome and welcome visitors from far and wide."
The Information Point is open Tues – Sat 10am – 4pm at Black Swan Arts, and each shift is half a day. The role includes opening up and closing, handling money and communicating directly with the public. Full training will be given.
If you would like to join the team, email info@frometowncouncil.gov.uk, call 01373 465757 or visit Volunteer Frome.