Thomas Bunn and his vision for Frome!
At the weekend, as the Frome Half Marathon runners swept down the hill into the market place, the wonderful wide curve of Bath Street really came into it's own as a grand entrance into the town centre.
Before Bath Street was constructed however, the road into the town centre was Gentle Street, a route that although picturesque, would have been a very different entrance into town! We have one man to thank for this legacy, his name is Thomas Bunn and he has also left us with a remarkable set of dairies.
Thomas was born in 1766, the only son of Dr Thomas Bunn (whose portrait can be viewed in Frome Museum) and Jane Mortimer, at Monmouth House on Cork Street. His father had the house built around 1770 and Thomas Jnr lived there until his death in 1853. He was immensely proud of both his house and garden and they feature prominently throughout his diary.
The Bunn Diaries start in August 1836 and end in July 1850. In total it amounts to seven volumes. Trained as a solicitor, this remarkable man is best summed up by Derek Gill, in the introduction to his book, 'Experiences of a 19th Century Gentleman: The Diary of Thomas Bunn of Frome' published in 2003:
"Thomas Bunn (1767 – 1853) devoted his life to improving his native town, Frome, and it's neighbourhood. He was involved in everything that promoted the town and it's population, it's buildings, education, better roads, and the welfare of it's citizens. His real passion, however, was classical architecture, and it was his aim to improve the buildings and streets in Frome, having seen the improvements being made in nearby Bath. His diary reflects this and more and is an unrivalled account of Frome in the first half of the Nineteenth Century."
There are some very interesting entries in his diary on the subject of Bath Street revealing some tangible links to Thomas Bunn which resonate nearly 180 years later:
12 July 1843. I have planted numerous cedars of Lebanon which have been destroyed chiefly by idle boys plucking off the leading shoot. One alone prospered and was become so large that I thought it was safe. Today I observed that this beautiful tree was despoiled of several of its spreading branches – my mortifications of this kind are so numerous that I will not attempt to recount them.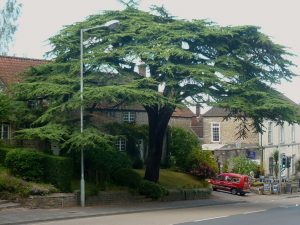 The beautiful tree that he describes survived and is the huge Cedar on Bath Street we can still appreciate today, not so despoiled – despite the efforts of 'idle boys!'
As far as Bunn's passion for classical architecture goes we are lucky to have the Bunn columns – or 'piers' as Bunn calls them in his diary – on Christchurch Street West. Of a Grecian design, they marked out where Bunn intended to build the Frome equivalent of Bath's Royal Crescent, the like of which he so admired.
24th March 1846. I am about to erect a new front towards the street of about four hundred feet from a beautiful Grecian design drawn more than thirty years ago by Crocker, and now improved by Davis, the architect of Bath (a pupil of Soane who built the bank of England).
Bunn's plans for the public buildings never materialized, as one of his backers died and it seems the others pulled out. The column closest to Wesley Slope is the original. The one next to what will soon become Frome's new Town Hall, is back in place, thanks to the efforts of Derek Gill who recognised sections of it in a garden on the adjacent Park Road. It was restored by Minerva stone and unveiled on the 9th July 2003. It seems ironic that it had been demolished in 1891 when the public offices were built. But now that the town council will be taking up residence again, Thomas Bunn's pillar will take pride of place, even if not all of his grand designs came to fruition.
Experiences of a 19th Century Gentleman: The Diary of Thomas Bunn of Frome'  by Derek Gill is available from the Hunting Raven Bookshop, Frome Museum and through the Frome Society for Local Study website  www.fsls.org.uk . Portraits of Thomas Bunn's family are on display in Frome Museum, open Tuesdays to Saturdays from 10am – 2pm.
Post published 19/07/16
Written by Sue Bucklow, Freelance Curator. Images provided by Sue Bucklow.