The Last Tree Dreaming Project
Selwood Forest was a large area of woodland on the borders of Somerset, Dorset and Wiltshire. In Anglo-Saxon times this forest covered a considerably larger area than the woodland we have today. One of the trees from this ancient forest was found in Stourhead when sadly it upturned in a storm early in 2013. This tree was notable –  not only for its age but because the Artist J.M.W Turner had painted it in the 1700s, when it was only 30 years old.  Stourhead donated the tree to Frome College and local Visual Artist Barry Cooper created a community project to celebrate the significance of the tree. School and College students worked with the National Trust, sculptor Anthony Roger, eco-poet Helen Moore, youth worker Azeema Caffoor and the charity Young People Frome to work on sculpting the tree.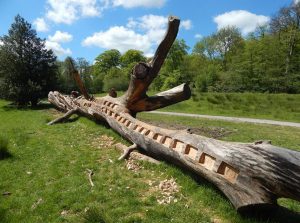 The tree has been located on the playing fields at Frome College. It is anticipated that the tree will provide a landmark and legacy for future generations.
Find out much more about this remarkable project by watching this short video here: https://vimeo.com/175372798 
Photo credit: http://www.fromeactive.org.uk/the-last-tree-dreaming/
For more information, please contact Azeema at azeema@fromeactive.org.uk  Young people can visit: or check out the Facebook page Last Tree Dreaming.