Take part in exhibition of 1000 Postcards
Black Swan Arts, a contemporary arts gallery and studio space in Frome's town centre is appealing for local artists to take part in their '1000 Postcards' exhibition in June, which is part of the centre's 30th anniversary celebrations.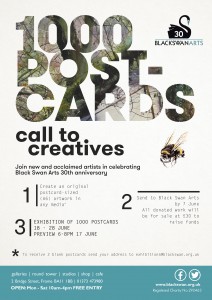 The exhibition is open to local artists, working in any media, who would like to get involved and donate a postcard-sized artwork.  The artworks will be exhibited anonymously (signatures will appear on the back of the work) alongside a list of contributors. Visitors will be able to buy the postcards for £30 with the ambitious goal of raising £30,000 towards restoring the historic Round Tower, located near the arts centre and keep the gallery open for another 30 years.
Black Swan Arts also hope to promote original art to a new and diverse audience, making art affordable to everyone. Any postcards unsold during the exhibition will be available for sale throughout 2016 at the centre and through a dedicated website.
Postcard packs have been produced which are now available from Black Swan Arts, but artwork can also be submitted on a standard A6 sized postcard (148 x 105 mm). The closing date is Tuesday 7 June.
For more information, please contact Amanda Sheridan or Paul Newman at exhibitions@blackswan.org.uk.