Spotlight on Independents: Rose and Lyons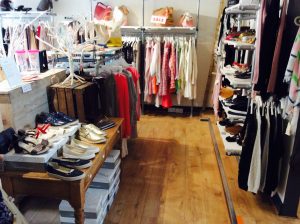 Rose and Lyons is one of Cheap Streets youngest stores. Providing a "carefully chosen collection of womenswear, accessories and gifts, a modern-day emporium of loveliness mixed with a dose of practicality" Here, the colours are light and breezy and the fabrics easy to wear and functional.
When it comes to on-trend bright colours, bold prints and sparkle, Rose and Lyons doesn't sit on the fence. It makes for an uplifting atmosphere. The relaxed casual collection and more glamorous party range means the fashion on offer can be combined, dressed up or dressed down.
There are plenty of accessories to choose from too. Owner Nicky aims to sell predominantly clothes that are designed in the UK. Stocking clothes from British designers such as Luella, Postcard from Brighton, Ombre London and Religion.
Nicky is passionate about making women feel great, which is why she picks clothes that have flattering body lines and layering, to suit women of all shapes and sizes "no one should be excluded from shopping with us".
Rose and Lyons hold Sparkly Saturdays, "come in for a glass of fizz! Saturdays between 3 and 5."
Find more Independent Frome shops on our Spotlight on Independents page