New independent helps the fight against plastic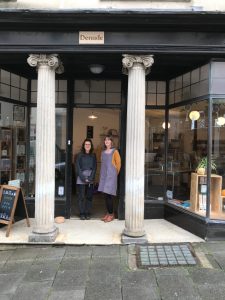 Frome has been working hard to reduce its environmental impact especially when it comes to food waste and packaging.  And now waste free shopping just got a whole lot easier with the opening of one of Frome's newest independent shops – Denude.
We caught up with the owners to find out about zero waste shopping and how they can help Frome residents in the fight against waste.
Who are Denude?
We are a team of three people (Sophie, Oli and Cat) all with a passion for helping the environment and sending less waste to landfill, while reducing single use packaging. Cat and Oli have been living in Frome for a number of years, and Sophie is in the process of moving to the area.
What is a zero waste shop?
We like to describe ourselves as a minimal waste shop. This means that we try to produce only a small amount of waste within the shop, with the majority of this being recyclable. All of our food is loose in dispensers, meaning you can help yourself to as much or as little as you like. We also sell things that help in reducing single use items in the home. Our aim is to reduce the amount of waste, particularly plastic being sent to landfill.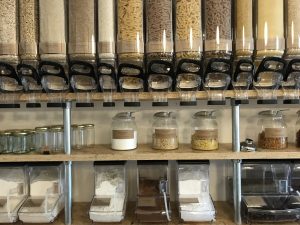 Why Frome?
We chose to set up a store in Frome because we feel that people here are very forward-thinking and willing to alter their habits slightly in order to have less impact on the environment. Frome is an exciting town, and the community here is exceptional – we have already met an incredible number of residents who are passionate about trying to reduce their waste, and we can't wait to support their journey!
What can people expect to find in Denude?
We offer dried food goods, herbs and spices, loose tea and coffee, toiletries, homeware items and cleaning products. We work with brands and makers who have a similar ethos to us and have a caring attitude towards our environment.
Can customers bring their own containers?
We would be delighted for customers to bring their own containers, there is absolutely no restriction on this. Bring glass jars, paper or cotton bags, plastic tupperware, anything you like.  If you forget or just don't have anything suitable at home, we have paper bags, produce bags and glass jars and bottles for sale. So you don't need to miss out on taking anything yummy home!
What are the advantages of buying from a shop like Denude?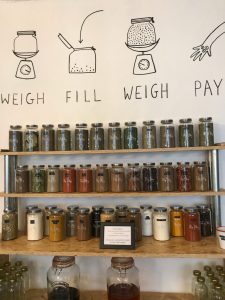 There are so many advantages to shopping in this way, the main ones being producing less waste that is sent to landfill and cutting down on single use packaging. You can also just buy what you need, meaning if you only want a small amount for a certain recipe you buy just that amount and less food is wasted or left languishing in the back of the cupboard.
What are you most excited about in opening the shop?
We love chatting to our customers and sharing our passion for shopping in this way. People have so many ingenious ideas for saving the planet.
What are you most scared about in opening the shop?
We have been cutting down on our waste at home for a long time now, it's become natural to us now, however, we were scared not many others had the same thinking. We have been delighted to find so many people with the same thinking and passion as us.
How do your prices compare to supermarkets?
We have compared all of our dried food prices to that of the supermarkets in order to give customers the most value for money and encourage them to shop in this way. People tend to be surprised at how reasonable we are!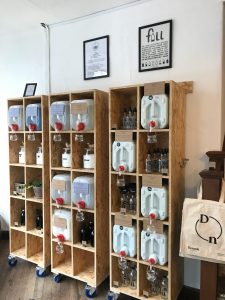 What are your top tips (essential swaps) for people new to moving towards plastic free/zero waste living?
Start off small. Don't try to change everything all at once as this can become overwhelming. For instance, begin by trying to only buy the amount of food you need, rather than buying 500g packs of packaged food from the supermarket. Once you feel you've mastered this, then move on to something else. It's a gradual process and we all need to be kind on ourselves, and be proud that we're moving in the right direction.
Denude can be found at 4 Bath Street, and is open during the following hours:
Mon  12.30 – 5
Tues & Wed  9.15 – 5
Thurs  9.15 – 9
Fri  9.15 – 6
Sat  9.15 – 5
Sun  Closed (except Independent Market Sundays)