Meet the artists: Cath Bloomfield
In the run-up to the Frome Virtual Open Art Trail 2020 we talk to artist Cath Bloomfield about her work, the impact of Covid-19 and her hopes for the future.
My name is Cath Bloomfield and I live and work in Trowbridge.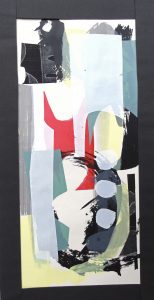 I would have been exhibiting with Jane Robinson at Behind Town Studios.
I am a print/collage artist also working in mixed media. I am open to inspiration coming from any quarter but mainly natural forms, landscape and drawing from life.
My workshop is at the bottom of the garden so when lockdown came I felt incredibly fortunate. As we couldn't go anywhere , apart from walking the dogs I went there. In fact I have worked intensively this last 3 months.
All exhibitions cancelled, so for me there has been a real experimental feeling around what I chose to work on. A couple of small sketch books are full of drawings done from life models, so I have used those as a point of constant reference. Going back to the same drawings time and time again, also working to the same dimensions. Two decisions made easily which left me free to pursue texture, form colour and layering.

In all I have made 80 printing plates which can be printed in any combinations. A really enjoyable time and fruitful, but what to do with all the work produced.
Some artists are selling online very successfully, I have opened an Instagram account and posted many images and found the community very supportive.
Who knows where from here and how…..
You can follow Cath on Instagram: @artycath or visit her website.
Find out more about Frome Open Virtual Art Trail or visit their website.