The Lions from Frome in Cape Town
With the arrival of a new bronze statue of a lion at Longleat recently, cast in the Western Cape, South Africa, we wondered how many people knew about the lions from Frome in Cape Town? There are eight altogether and they form part of the Rhodes Memorial, but the story behind the Frome foundry that cast them between 1908 -10, is perhaps little known.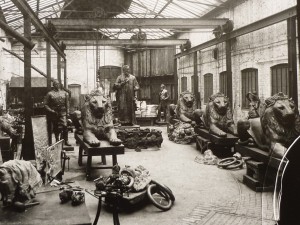 J.W.Singer & Sons were based in the centre of Frome, at Waterloo, for over 130 years. Although this site is now built on, there are many clues to it's history, not only in street names like Foundry Barton, but also in artefacts and machinery left in situ as part of the Singer's Links project (2000) which celebrated the legacy of the firm on it's original town centre site. Within a very short distance one can spot a large gantry, power hammer and a sand blast kiln and set high on a plinth a small sculpture of a camel. This is the biggest clue as to why  lions 'made in Frome,'  can be seen in Cape Town. Singers ability and craftsmanship to cast large bronze statues meant their reputation spread across the globe.
This photograph taken c1909, shows four of the eight lions, sculpted by Royal Academician, J.M. Swan. They rub shoulders with a host of other important public and private commissions, in what amounts to a 'statue waiting lounge'. We can see – from left to right – Baron Chesham by John Tweed (Aylesbury), Sir Daniel Dixon by Hamo Thorneycroft (Belfast) and Sir George Livesey by Frederick Pomeroy (Old Kent Road, London) and in the foreground a lion head mooring ring by Gilbert Baytes,  one of 150 which can be found along the Thames Embankment in London close to the former County Hall.  Finished off and photographed prior to departure, each of these statues started their travels, across the British Isles and beyond, by horse and cart to Frome Railway station. There has always been talk of the impression the Rhodes Memorial lions made on en route to the station, with people lining the streets of Frome to wave them off, but the photograph said to show this wonderful occasion has never come to light.
Joseph Singer started his business in 1851, at 25 Market Place, before expanding to Waterloo in 1866. The foundry initially concentrated on ecclesiastical work. Hundreds of churches throughout the British Isles have lecterns, candlesticks, chancel screens, light fittings and railings all cast here in Frome (including our own churches of St John's and Holy Trinity) But in the late 1880's leading London sculptors were looking for a foundry capable of larger works and Singers provided this. The statue of a camel on plinth that can be seen in Foundry Barton, is a reminder of one of the early large statues cast by Singers. The work by Onslow Ford, General Gordon riding a camel, can still be seen at Brompton Barracks, Chatham, Kent, where it was erected by the Prince of Wales in 1890. It was so large that mounting shop where it was assembled was forever known by Singer's employees as the 'Camel shed.'
In anticipation of the re-design of the former 'Camel Shed' area with new interpretation boards, telling the story of this wonderful Frome foundry and it's famous castings – including the lions of Cape Town –  Frome Town Council have organised a talk on the History of Singers Foundry at 7pm on Thursday 19 May at Frome Canoe Club. But If you are unable to make it along to the talk both Frome Museum (Open Tues – Sat, 10am – 2pm) and the Loop de Loop Gallery (Open 24hrs) have a permanent display on Singers. 
Information and Photo supplied by Sue Bucklow of Frome Heritage Museum