Kids' Summer Holiday Activities 2023

Panicking about what to do with the kids this summer holidays?  Have a look at the fantastic selection of camps and workshops on offer as well as some activities you can do with the little ones on your days off.
If you have an event you'd like listed here, please email us.
Camps & Clubs running throughout the summer
Nova provide unique opportunities for fun and inclusive sports activity for children with additional needs and their siblings. A variety of sports are available for booking including bouldering, hydrotherapy, powerchair football, multi sports and gymnastics.
Premier Education Multi-Sport introduces children to a wide variety of sports, including basketball, football and tennis to name just a few. It's a huge, exciting session with more sports than you can kick a ball at.
For 5-12 year olds. Monday – Friday 9am-3pm. Prices start at £19.62 Funded spaces available.
IG Sports are hosting holiday clubs and camps which are open to children of all abilities aged between 5 – 11 throughout the summer. Camps run Monday – Friday 9am – 3pm (early drop off & late pick up options are available at an additional cost).
Camps take place at Selwood Academy, Beckington and Nunney.
Get the kids outside for a chance to have a go at bushcraft, environmental art, woodland crafts and games, campfire cooking, journeying through the woods and of course, free play. For children that need to be dropped earlier or collected later, we have supervised free play in the camp from 8.30am-10am and 4pm-5.30pm. There is an additional charge of £6 per child per session per day for this option (or £24 for 4 day blocks). These can be added to your booking using our online booking system.
Sessions run Monday-Thursday, 10am to 4pm. For 8-13 year olds.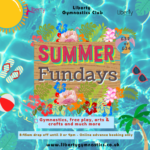 Gymnastics, trampolining, arts & crafts and outdoor  play (weather permitting), downtime film and games etc
The fun days run Tuesday-Thursday.  Tickets from £32.
Summer Forest Club – 31st July, 1st, 15th, 28th, 29th & 30th August
Luke Newman, a highly experienced local bushcraft and outdoor learning expert has created nature-connected, full-day, summer holiday experiences for children – deep in the heart of the ancient Forest of Ammerdown – shelter building, fire making, cooking food together over the fire, wood craft, storytelling, lots of games – chill out under the canopy of the trees in a 'woodland camp' nestled within the grounds of the Ammerdown, just outside Frome. For ages 7+.  £35pp/day or five day pass £150
Multi-Sports Courses for boys and girls aged 5-14,  providing the opportunity to enjoy and develop skills in a wide range of sports including basketball, football, dodgeball, tag rugby, catchball, handball, cricket and rounders.  Whether you are an avid sports player or just want to have fun and meet friends, this camp is for you.
The sessions run 9.00am-3.00pm, Monday – Friday. £25 per day.  Funded spaces available.
• Drop in sessions are FREE for young people to attend
• Led by YMCA youth workers with full professional training
• Free food available each week: Hot Meals and hot drinks
• Wide range of activities on offer each week
6pm to 9pm | Ages 10-19
Summer Camps 2023:
Now available to book- get the children out this summer meeting other children their age and developing/ improving their skills at a great social and competitive sport.
Mini Red (10 – 11am), Mini Orange (11am – 12.30pm) and Green / Yellow Ball (1 – 3pm) courses available to book (ages 4 -17) all abilities, non members and members are welcome to book.
Camps are weeks commencing 7th or 14th August, costs vary depending on level. Members get a discounted price.
FREE Tennis for everyone.
Girls Free Football – Every Thursday in the summer holidays from 27th July
age 5 -16 years
Mixed Football – Every Tuesday in the summer holidays from 25th July
FREE football  Ages 11-16 years
Rugby Tots  Running throughout the Summer
Our fun, structured play sessions take children on a journey of sporting imagination, with engaging and energetic coaches supporting them every step of the way while teaching how to catch, pass, kick, run with the ball and play as part of a team.
Other Activities
The Jackdaws Summer Production is a fun, stimulating and exciting way for children aged 10 years and over to spend a week in the summer holidays discovering how to create a show from scratch.  A week long performance project for children aged 10 to 17 years
Crafts and activities, nature and science walks, storytelling and active games and much more.  FREE Fair Frome lunch served 1 hour before end of session.
Skills Week & Our House – The Madness Musical This year's junior summer school is very exciting as we combine a skills week with a guest appearance in the senior production of 'Our House' enabling the younger students to perform for three nights in this popular high energy musical.
Somerset Cricket Foundation have partnered with Somerset Activity Sports Partnership to deliver a Street Games holiday programme. Our session will consist of All Stars Cricket alongside other fun sports activities. All Stars Cricket provides a fantastic first experience for all children aged 5-8 years old where they're guaranteed 2 days of jam-packed fun, activity and skills development. The programme is designed to introduce children to the sport, teaching them new skills, helping them make new friends and have a great time doing so. Every child that registers will receive a backpack full of goodies.
Things to do with the kids…
Frome library has a variety of activities running regularly throughout the summer including Baby Boogie for under 1s (Tuesdays at 11am); Toddler Time for 1 to 3 year olds  (Tuesdays at 10am and Fridays at 11am); Lego Club for all ages, alternate Saturdays at 11am.
All children under 8 must be accompanied by an adult.
There will also be a number of Summer Reading Challenge activities – check the Frome Library Facebook page for more information.
Visit our 7 acre living maize maze. Both a mini maze and big maze each with their own theme included. A fantastic day out for the whole family. Come see if you can follow the clues to conquer the maze and win yourself a medal. This years maze is in the shape of a Tractor!
Folksy Theatre presents The Ugly Duckling – Open air performance. When a mother duck's eggs hatch and one duckling looks different from all the rest, the other ducklings laugh and make fun of them. The awkward little bird sets off on their own and is met with hecklers, hunters, and cruel weather. Come and join them on their journey to discover who they really are! Filled with live music, puppetry and colourful characters. Will the ugly duckling find their place in the world and discover true happiness? Bring along your picnics, folding chairs and friends and family, to enjoy this wonderful open-air, family musical! Adults £12, children £10
Join Super Roots on Rodden Meadow for an afternoon of free activities. Enjoy play, creative arts, music and performance.  Bring a picnic.
The Children's Festival is a free community event offering around 40 activities for children and families to enjoy. It is likely to include storytelling, forest school, arts and crafts, music, sports, magic, fun science, theatre, a sensory tent and more.
Join Somerset Skills & Learning for their free Art in the Park family fun day and picnic! Workshops, suitable for children ages 3 to 8 include creative storytelling, music making and creative art.
Slip 'n Slide – all through the summer holidays
Experience the fastest, highest, longest, wettest fun you can have in the countryside. Perfect for kids, teens, families, and everyone in between! Have fun whatever the weather.
Super fast, super high, super long, super fun.
Ride as many times as you like on our handled rubber rings. Our 95 metre Ultimate Slide has buffered sides and a super long splash pool.
Each session is 1 hour long and costs just £12