Fussels Fine Foods Open Day Sunday 24 July
Fussels Fine Foods (based in Rode, a village not far from Frome) has been established since 2005 and specialises in a range of rapeseed oil produce – which is locally grown. The founder of the business Andy Fussel oversees the whole process, from seeding the plants to the bottling of the oil.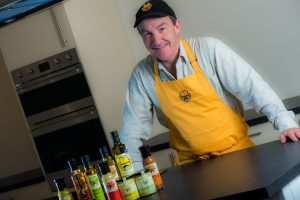 Fussels Fine Food is branching out, creating a forum; an exciting new food and community initiative. It will be offering a full programme of food related activities, including: demonstrations; master classes; social evenings; cooking for children; family days on the farm, and much more. A dedicated demonstration kitchen will see a number of exciting chefs and food experts displaying and sharing their skills and passions for great ingredients and fantastic food.
This kitchen venue is set to be opened on 30 June by the well-known television Chef Lesley Waters. Andy Fussel will also be showing people around the new site and explaining the field to bottle process that creates his single cold pressed extra virgin rapeseed, including a demonstration of the new press, filter system, filler and labeller that have just been installed.
An open day on 24 July, 10am – 4pm will show attendees round the site, with opportunity for asking questions on how the farm grows, presses and bottles their award winning oils (2 golds and a silver at the recent Taste of The West Awards). The open day is free to attend, open to all and suitable for all ages, with drinks and nibbles on hand – as well as the chance to have a close-up look at their monster tractors and combines.
Summer events and classes such as cheese making at home and pasta making are being organised with options of booking online and over the phone, more topics will follow. You can keep up-to-date with these events and Fussels Fine Foods Forum on their website here: www.fusselsfinefoods.co.uk
Andy said "The events designed for children and families are something I really do believe can have tremendous value. Too many youngsters are not very aware of the what the growing cycle is all about, or how their food gets to their plate from the farm and when they get to be hands on and see what it is all about and even make their own food, they love it and food should be fun. Everyone on the team is very excited about the potential of the new kitchen and the future for Fussels Fine Foods in general, and we hope to see you and your family for great food and lots of fun!"