Fiver Fest 2021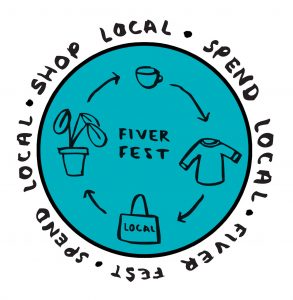 Fiver Fest is back!
For the third consecutive year, Fiver Fest is set to return to Frome's streets on 22nd-24th October.
Part of the national Totally Locally campaign, Fiver Fest celebrates local businesses, often run by families or individuals, making a real contribution to our unique town.
2021 has continued to be a hugely challenging year for retailers and spending just £5 a week in local shops can have a big impact on our high streets, boosting the local economy, increasing employment and putting a smile on our shop keepers' faces.
Explore shops you've never been into before and discover what makes Frome's independents so special.
Here's what's on offer so far for Frome Fiver Fest 2021. Please check back for more offers over the next few weeks.
Postscript Designed A5 Notebooks.
Choose from 8 different cover designs, including 3 which showcase the textures of Bath artist Peter Hayes.
£5 each during Fiver Fest!
LED warm white battery operated lights for £4.99.
Raves From The Grave are offering their T-Shirts (usually £10).
Plus their range of mugs (usually £5.99-£7.99).
All for £5.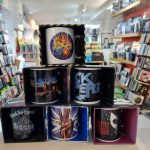 Enjoy a Passionfruit Caipiroska for Fiver Fest! A fruity twist on a refreshing classic. Fresh limes muddled with passionfruit puree and Finlandia vodka. (Image coming soon).
Greetings cards – 2 for £5. (Image coming soon)
Handmade earrings – £4.95
Somerset rarebit served with jalapeno slaw for £5.
High-quality washable entrance mats in a variety of colours & designs (70cm x 40cm in size) at £5 each.
Denude 4 Bath Street
Tea basket and the customer's choice of 30g of loose leaf tea to go with it (either Assam, Earl Grey, Peppermint, Chai, Rooibos, Green tea, Chamomile or Nightcap).
Jam jar posies at £5 for Fiver Fest. Pretty posies of seasonal blooms, half price for one day only!
A pastry of your choice and a coffee for £5.
My first crinkly newspaper, a fun crinkly cloth book cleverly designed to look and feel like a real newspaper. Read all about it, every little one should have one. Buy one for £14 and get a second for £5.
SHARE 3A The Bridge
First 3 months of Subscriber Membership reduced from £10 to £5.
plus £5 of all orders over £10.
Nook 14 King Street
TEA + CAKE – Nook's lemon polenta cake with yoghurt, compote and toasted almonds and a brew tea of your choice.
Burrito Boi Unit 1H, Station Approach
The perfect accompaniment to your burrito – enjoy a 'Frozen Margarita' for £5.
A Winsor & Newton smooth or medium surface A4 pad with a pencil for £5.
POP! 18a Cheap Street
£5 POP! Supermarket lucky bag, plus other selected items. (Image coming soon!)
Small recycled glass jugs.
An award-winning pork pie and a pint for a fiver.
Two new kids' felt sewing kits – Christmas stocking and George the Gingerbread man! Reduced from £7.50 for fiver fest.
Loud Mouth Coffee on offer for £5 per bag.
A selection of scarves available for a fiver.
Special dog treat bundles for £5. (Image coming soon)
SEED 3 Catherine Hill
Seed's Incense – various scents available. Made using plant based fragrances, each box comes with 30 incense sticks and a little ceramic holder. One box is £5 for Fiver Fest (usually £5.95).
A sausage or bacon bap with any hot drink.
Frome Lanterns, Discover Frome, Justice Lane
Large lantern kits at £5 instead of £6 for Fiver Fest. Available from the Discover Frome Information Point. Limited number available.
Find the businesses taking part: