Events Calendar round-up: July 2019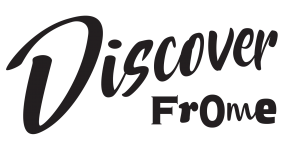 This month sees the return of the Frome Festival, jam-packed with events.  Here's our monthly round up of a few of the most interesting events on this month during the festival and beyond.
Whatever it is you enjoy, make sure to share it with us on Facebook.  And for even more events, go have a look through our events calendar. or pop in to the Discover Frome Information Point.

Frome SODA this year celebrates the 40th anniversary of our national organisation. To mark this, we offer visitors the chance to win a painting of their choice from the exhibition. To have a chance of winning, just vote for your favourite. As usual in the Frome festival-long exhibition, original paintings by members, cards, book marks and notelets featuring local scenes will be on sale.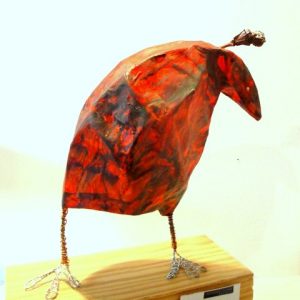 Frome Open Studios returns for the 2019 Frome Festival. Local artists will be opening their studio doors to show and sell their work direct to the buyer.
This event is a real treat for art lovers and is an excellent way of supporting Frome's creative community.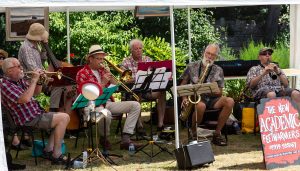 Supported by Frome Lions, the Blue House Gardens will be open to the public on Saturday 11am to 8pm and Sunday 10am to 5pm.  Entry to the gardens is free but the public will be asked to make a donation to the Blue House charity.
Live music will be playing at various times. There will be a selection of food and drink available and a treasure hunt for children.  This is an ideal venue for families to enjoy a tranquil oasis in the heart of the town.
Frome Festival 2019 marks the debut of this dramatic comedy by local writer Nikki Lloyd, aiming to prove that relationships come in all shapes, sizes and intensity. Including a scene where, completely confidentially, the audience has the chance to say that thing they've always wanted to but never dared, via the characters.
So would you dare… It's their crazy love life, but you're "so" invited.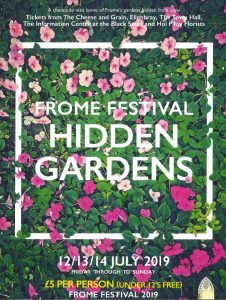 Building on the success of last years Hidden Garden Event, Frome will open 32 gardens in 2019. Twenty four of those gardens are new. We encourage you to plan your routes carefully using the programme/ticket. Not only will you find information on location, accessibility and parking but information on who is offering refreshments, selling plants and the all important toilet.
All we need is some lovely weather and we will be ready to step though the gate and walk up the garden path surrounded by flowers, fruit, vegetables, sculptures and wildlife.
Come along to support Frome Community Hospital at their traditional summer fair, with stalls, games, bouncy castle, raffle, tombola, BBQ, ice cream van, Frome Town Archers and face painting.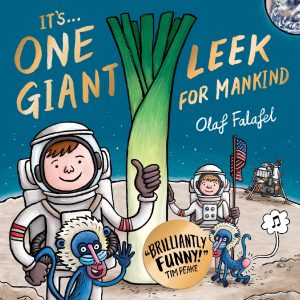 A mini-pop-up comedy festival taking place at HUBnub over two days during Frome Festival. A choice of fantastic shows for kids aged 5 to 100, including The Mighty Kids Beatbox Comedy Show, from award-winning comedian Jarred Christmas and world-champion beatboxer Hobbit, interactive theatre show Kidocracy from comedian Keith Farnan, and comedian Olaf Felafel's show launching his hilarious new book for kids, It's One Giant Leek for Mankind.
MeadowFest is a free, family fun event on the last afternoon of the Frome Festival to celebrate Frome's great outdoors by or even in, the river through Rodden Meadow.
You can learn all about local wildlife and there's plenty to get involved with from things to make and do such as foraging, pottery, and willow weaving.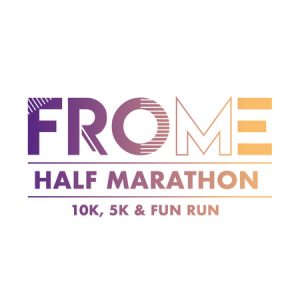 This ninth edition of the Frome Half Marathon sees the same famous course offering runners a big city race experience in this beautiful town and surrounding villages.
Welcoming first-time half-marathoners, seasoned endurance runners and everyone in between you'll find people of all paces to keep you feeling strong as you take in the sights of this charming course.