Cordero Lounge supports forever friends appeal to celebrate Frome opening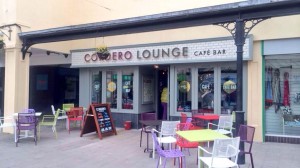 Loungers, the West Country based restaurant/café/bar group are open for business at their brand new site in Frome. After a very successful opening night where guests were treated to delicious tapas and free drinks on Wednesday 1st April, Cordero Lounge is now open in the Westway Shopping Centre. As a result, there are now 25 new career opportunities available for people within the Frome area.
As if you needed an excuse to visit, Loungers will be donating 50p from every burger and 10p from every coffee sold in their first month to the RUH's Forever Friends appeal. Not only is the food fantastic and the atmosphere welcoming, but the restaurant also stands by family-friendly values, with the money raised going straight towards the RUH's Children's department.
Corporate Officer for The Forever Friends Appeal, Jo Common, comments: "We are so pleased to have been chosen as the beneficiary charity for Cordero Lounge's first month of trading.  Every year, tens of thousands of local children receive care and treatment at the Royal United Hospital. Charitable support helps make life better for these children, and their families, by funding additional care, facilities and equipment. Thanks to our generous supporters, like Cordero Lounge, we are able to make life better for thousands of local children and families who are cared for in the RUH each year."
The site has been truly transformed after five years of remaining an empty unit, only ever used for pop-up events after the closure of Lloyds Pharmacy in 2010. Decked out with 70's style wallpaper, dramatic artwork and statement light fittings, the restaurant has been described as a 'retro home from home', and the staff were more than happy to give us a taste of what this means on the opening night. The staff were friendly and attentive and were keen to give us a warm welcome as we dined among the oversized comfy couches.
So why did Loungers choose Frome? Graham Blackwell, operations manager, said: "Frome is the perfect location for our Lounge concept. There's already a thriving and vibrant community and we're really looking forward to playing our part in the foodie scene here. Residents will be served by the very best – our new team is passionate about hospitality. Our excellent pre-opening and 'on the job' training programme ensures our staff will be at the top of their game. Training includes expert guidance from one of Europe's most acclaimed baristas."
Cordero Lounge caters for all tastes throughout the day. Whether you're looking for the best coffee in town, a business lunch with colleagues or a lazy all-day brunch, Cordero Lounge is the perfect place to relax and unwind. The menu features everything from their famous authentic tapas and Hero Burger to Tin Pan Louie's beef chilli and the best mac and cheese you've ever tasted… or there's the ever-changing specials board. Little people are also very well cared for with their very own kids' menu.
Cordero Lounge, 5 Westway Shopping Centre, Frome, BA11 1BS