Composer and Lyricist Dorothy Fields Celebrated at Cooper Hall

Suzanne Noble is bringing the music of legendary composer and lyricist Dorothy Fields to life at Cooper Hall next month in If they could see me now: the words and music of Dorothy Fields.
Fields was responsible for writing over 400 songs, including classics like "Hey Big Spender", "A Fine Romance", and "The Way You Look Tonight." Noble's one-woman show will feature Fields' most famous songs as well as some lesser-known ones.
For many people who grew up listening to the Great American Songbook, the names of Billie Holiday, Ella Fitzgerald and Frank Sinatra readily come to mind. But what about the woman who penned some of their most iconic tunes? Dorothy Fields may not be a household name, but her contributions to the music industry are undeniable.
Actress/singer Suzanne Noble discovered Fields' music through a collaboration with Paul Maguire, a semi-retired pianist who had worked as a composer, arranger and pianist in the West End. Maguire suggested they write something new together and introduced Noble to Fields' work.
Fields, who wrote over 400 songs and contributed to more than 20 stage musicals and 30 movies, was a force to be reckoned with in the industry. She worked alongside some of the biggest names in music, including Jimmy McHugh, Jerome Kern, Arthur Schwartz and Quincy Jones. We have Fields to thank for timeless classics such as "Exactly Like You", "I'm in the Mood for Love", "Don't Blame Me", "I Can't Give You Anything But Love", "You Couldn't Be Cuter", "I'm Gonna Laugh You Right Out of My Life", "On the Sunny Side of the Street", "I Won't Dance", "The Way You Look Tonight" and "A Fine Romance."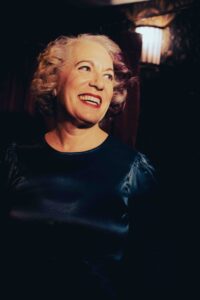 In 1966, Dorothy Fields teamed up with composer Cy Coleman to work on the Broadway musical "Sweet Charity," which was based on Federico Fellini's film "Nights of Cabiria". One of the standout songs from the show was "Hey, Big Spender" a seductive and sassy number sung by the dance hall girls as they try to entice their clients to spend more money. The song's catchy melody and Fields' clever lyrics made it an instant hit.
Despite coming from a theatrical family, Fields was initially dissuaded from pursuing a career in the industry. However, her persistence paid off, and she became one of the most prolific and enduring lyricists of her time.
Fields' story so inspired Noble that she created a one-woman show, "If they could see me now: the words & music of Dorothy Fields". The show will feature Fields' most famous songs, as well as lesser-known ones from the beginning of her career until she died in 1974 at 69.
"I hope this show will finally catalyse Dorothy's name alongside all the others who have given us the Great American Songbook, which is what she deserves and most certainly would have wanted," says Noble.
The show will take place at Cooper Hall, Frome on 10th June at 7.30pm. Don't miss this rare opportunity to experience the music of Dorothy Fields and celebrate the legacy of one of the most talented and groundbreaking women in music history.