Valentine Lamp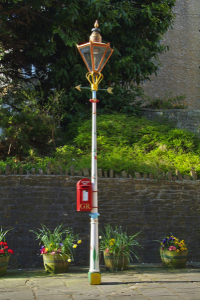 The Frome Valentine's Lamp is located at the top of Catherine Hill and is one of the town's most romantic landmarks. It is a working gas lamp, the only one in Somerset, that is dedicated to the memory of St. Valentine. Every year there are lighting ceremonies when the gas lamp is lit for the first time.
A 'love seat' nearby catches the glow of the gas lamp, looking down the historic cobbled street of Catherine Hill. The lamp even has attached a renovated George V posting box attached – for your love letter or Valentine card.
Frome's famous Valentine Gas Lamp has been celebrated for the past 24 years. The lamp is located at the top of Catherine Hill, and every year at 5:30pm on Valentines Day Reg Ling, the lamp's renovator, sets off a rocket, summoning lantern-goers to the site. At 6:00pm he starts the lighting ceremony, using the original lamp lighters' pole.
Valentine Lamp
Catherine Street, Frome BA11