The House near Bath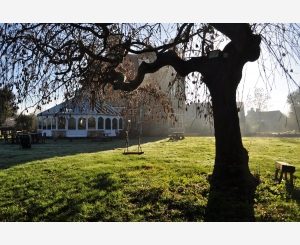 They are a Bar with Bedrooms. You can drink and sleep here, and have breakfast. They try to get everything locally. The drinks are all British.
Who comes to stay? Both young and old, famous and unknown, tourists, business people and shooters. They love children as long as they are over the age of four. There is a trampoline to amuse them and little trucks to ride on.
Sorry no pets allowed.
Their conservatory bar is big and bright and reminds people of holidays abroad. Must be the tropical look. The bar is also the playroom. Ping pong, snooker, darts and board games.
And the views! Best to judge for yourself.
And one huge car park which is free.
They are really just one big house, with the loveliest house guests.
The House near Bath
Woolverton, Nr Bath, BA2 7QS