St John's Church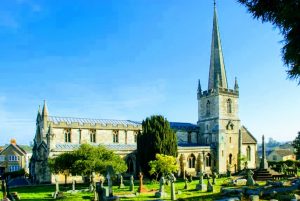 Frome's large parish church, fitting for a town that was larger than Bath until 1650, lies a short distance up a hill from the town centre. From the outside, much of what the visitor sees is Victorian, but inside are substantial elements from a complex medieval building.
It's a medieval building on a Saxon site, founded in 685AD by St Aldhelm. This important parish church has a number of unusual and interesting features, including a large stone archway in front of the church, steps leading to a holy well that are over 700 years old, and an underground room with no windows, which was once Frome's jail. Other attractions include four chantry chapels, two porches, a square tower with a octagonal beautiful spire, relief sculptures, carved oak stalls and a stone screen. St. John's Church was lavishly restored in the Anglo-Catholic tradition in the mid-19th Century.
When the controversial Revd Bennett took over St John the baptist in 1852 it was in a terrible state of disrepair, and he devoted the rest of his life to renovating the church. James Forsyth was engaged between 1860 and 1866 to produce multiple carvings within and without the church.
He carved four statues of saints for the west wall, a pieta and madonna and child for the Lady Chapel, the reredos on the main altar and 18 medallions ( meant to be used as teaching aids ) that show the miracles on the North wall and the Parables on the South wall inside the church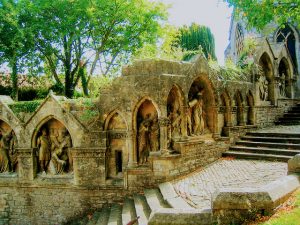 His finest achievement, and unique in an Anglican church in the UK, is the Via Crucis ( 'Way of the Cross' ) carved in the church yard. This was achieved after Revd Bennett organised the purchase and demolition of several properties to allow the steps and carvings to be housed in a stone structure that leads from the street up to the North entrance.
St John's Church
Bath Street Frome, Somerset, BA11