Silk Mill Studios And Galleries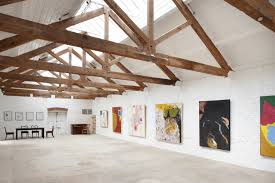 The Silk Mill is an artist studio project and gallery in the centre of the arts destination town of Frome. The gallery hosts exhibitions and a wide variety of musical and social events.
Silk Mill Studios and Gallery operates from one of the best preserved former textile mills anywhere in the south-west. It launched in May 2008 and is now a hub for exhibitions, concerts, workshops and a multitude of other events. The studios are open to the public during Frome Festival and other Open Studio dates.
What's on at Silk Mill Studios
Accessibility
The Silk Mill Gallery is fully accessible with disabled toilets also available. Please note, there is some uneven ground outside on the approach to the building.
History and regeneration
Damon & Kate Moore bought the Silk Mill privately from Notts Industries, a local car components manufacturer in February 2005. Until 1926, when it closed, it was a working textile weaving mill. The building then became an engineering works for much of the 20th century. It fell into disuse and disrepair in the mid-1970s, until its restoration.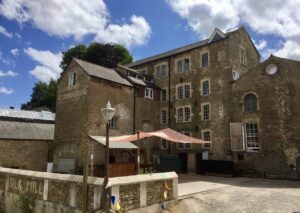 The Silk Mill in Merchants Barton was named after its last owners, William Thompson & Philip Le Gros. The Ward family originally constructed the mill in the closing years of the 1700s. By 1861, the Silk Mill had changed direction from silk throwing, (production of thread) to weaving, (production of finished cloth) which required heavier machines once the raw material had been washed, carded, (or dressed) and dyed. Large mechanical looms were bolted directly onto main beams with timber flooring being used primarily for access.  The air would have been full of textile filaments and the terrific noise of machinery
The silk and textile industry went through many changes of fortune facing major competition from abroad even in its earliest days.  Silk Masters relied on technological improvements to stay ahead but these were unpopular and a source of constant tension in the workforce.  The prolonged period of mourning or 'widow's weeds', made fashionable by Queen Victoria, led the last great boom in the silk trade.  During the First World War, a Royal Decree abolished this custom, after which the industry declined systemically. Thompson's Mill was one of the last to close in Frome. In 1926 by the Widow Elizabeth Le Gros sold it to J.H.Nott and Sons of Swansea.
Studios
Twenty studios at the Silk Mill and 2 studios at Silk Mill West are occupied by local artists and artisans
Many of the artists at the Silk Mill open their studios to the public several times a year.
Silk Mill Studios And Galleries
Merchants Barton, Saxonvale, Frome, BA11 1PT