Seven Acres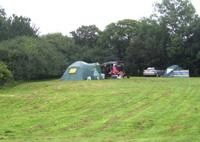 A level meadowland site beside the shallow River Frome, with a bridge across to an adjacent field, and plenty of scope for families.
This is a delightful family-run campsite within easy driving distance of Longleat House and Safari Park.
There are two separate fields for tents and motorhomes, which are both screened by trees. The toilets are small but neat and tidy and as well as separate facilities for both sexes, there is also a larger unisex one with lots of space to hang things. There is a washing-up area and the site encourages recycling. A little farm shop is a mere five minutes away if you need any basics. Campsite is also great for kids with plenty of space to play.
Seven Acres
West Woodlands, Frome, BA11 5EQ