Sassy & Boo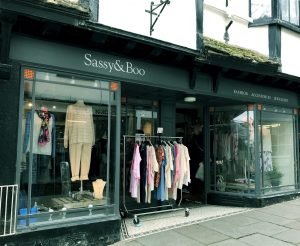 We offer a modern emporium of loveliness mixed with a dose of practicality and with our constantly changing product range, a quick browse on-line or in-store, will provide you with the perfect outfit, even when you didn't know you were looking for one! There's also some gorgeous gifts and smells in the mix
Our stunning womenswear, often has a gentle nod to yesterday but always features flattering body lines, a few bat-wings and a great amount of style. Most of our ladies clothing is incredibly versatile, can be dressed up or down, and includes a lovely relaxed casual collection as well as a more glamorous party range. Whatever your body shape, you will find an outfit to suit and flatter you!
Sassy & Boo was originally set up as an on-line business but soon as we started doing pop up events, we realized how brilliant it was to actually see how great some of our products looked on you lovely ladies. From then, it was only a matter of time before we opened our first stand alone shop in the gorgeous market town of Frome in Somerset.
We offer clothes that look great on real women… whatever size or shape you are. That's really important to our ethos… no one should feel excluded from shopping with us. We try to purchase British and local where we can. Being based in Somerset we are lucky enough to have some great artists around and some of our jewellery ranges are made locally. A Postcard from Brighton is all designed and made in the UK. Religion is all designed in the UK. Ombre London scarves are designed in the UK. Four London is designed and made in the UK. Luella is designed in the UK.
Sassy & Boo
7a Cheap Street, Frome. BA11 1BN