Nesta Yurt Camping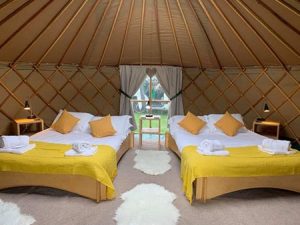 Nesta Yurt Camping is a seasonal site open from 22nd June – 31st August.
A little haven on the outskirts of Frome, offering luxury yurt glamping, Wood fired hot tubs, Yoga and wellness studio and on-site Massage therapists.
Nesta's bistro and cocktail lounge serve wholesome, local and sustainably sourced food and drinks daily in a comfortable and relaxed space with live ambient sunset music to serenade you while you enjoy the warm summer evenings.
They also run weekend activities for kids, including forest school and arts and crafts sessions, interactive quizzes and interpretive dance competitions.
Nesta Yurt Camping
Critchill Manor, Frome, BA11 4LJ