George Hotel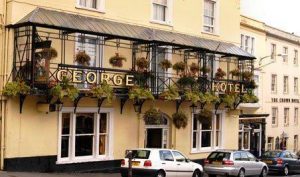 The George Hotel is located in the heart of Frome. It is a hotel with an excellent reputation for good food, excellent beer and fantastic coffee.
The George is located within easy reach of Longleat, Bath and the Somerset countryside. It is the perfect base for any trip. The bar area and courtyard are also dog friendly.
The George Hotel is part of the You're Welcome Scheme. This means you are welcome to use their loos and refill your water bottle at this venue without needing to buy further offerings.
History of the George
The George dates back to 1650 and has been the centre of the social and business life of Frome for the past three and a half centuries. For most of its history it has hosted balls, dinners, lectures and other social events. The hotel was renovated in 1874 with the balcony across the front added, as well as some attic rooms. The George Hotel was eventually bought by Wadworth's.
For more information on the history of the pub, see The Historic Inns of Frome.
George Hotel
5 Market Place, Frome, BA11 1AF