Frome's newest most successful event The Frome Tattoo Convention
Late February saw the return of one of Frome's newest and most successful events The Frome Tattoo Convention, which featured live-tattooing, music, entertainment, and traders selling vintage inspired clothes, jewellery and artwork. Taking over the whole of the Cheese and Grain venue, the two-day convention saw some of the South West's most notable artists – home grown and from further afield, as well as well-known industry models together with around 2,000 tattoo enthusiasts who descended on the town. 
The seemingly unstoppable popularity of body art has seen new tattoo studios opening up in many towns; Frome in particular has a significant number of tattoo studios, new as well as long established businesses.  Three women involved in the town's tattoo culture talk about the convention, the tattoo industry and their love of body art.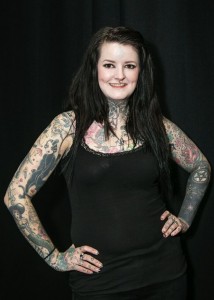 Jo Black is an established custom tattoo artist working from her studio in Frome's town centre, and was one of the artists who attended the event, she was also part of Frome's first tattoo convention last year.
"For us the recent Frome Tattoo Convention was mostly about supporting a local event and helping to better the image of the tattoo industry, one step at a time. If even one person who wouldn't normally be interested in tattoos came to the show and changed their opinion then we have done our job! With over 2,000 people attending I think Frome and the tattoo industry received lots of attention! The tattoo business is definitely more present in the media, but I guess that we could also chalk this up to a massive increase in social media coverage. It's certainly more accepted now than ever before, could this be to do with celebrities adorning their bodies? Or perhaps it's just that the younger generations who grew up loving tattoos are becoming adults and therefore more and more people accept tattoos as 'the norm' now."
"The industry is constantly growing, Frome now has 4 tattoo studios – even a small town like Devizes has 2, Exeter town centre has 16 tattoo shops, and that's just the middle bit of town! Bath has 6 and almost every town you visit these days has several on the high street alone. We have recently expanded into a larger studio space and have plenty of guest artists from all over the UK coming to visit and work with us in the next year! We hope to add a third tattoo artist to the team, but we are looking for someone really special. We would like someone who can do realistic tattoos, portraits, animals, nature etc. It's hard to find the right person, but we will know when we do!"
A key part of the convention were the finals of a fairly new annual pageant 'Miss Lady Ink UK', organised by Nancy Norté, which aims to recognise women who embrace their tattooed lifestyles in a unique way. This year's winner was Dolly May, 24, from over the border in Wiltshire.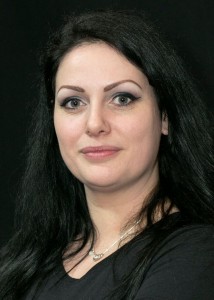 We spoke with Nancy Norte, an entertainer and dancer to find out a bit more about her role in the convention.
She said "My part in the Frome Tattoo Convention was to bring Miss Lady Ink UK 2016.  This is a pageant for women aged 18 and over with tattoos.  The finals took place here, where amazing women took to the stage to try and win the title.  They showed us in various rounds their tattoos, style, personality and talent.  Judges were Mz Bones, Oh! Carolina and Matthew Harris. We had compering by the wonderful Muriel Lavender and we had great sponsors such as MS Photography, Dinx's Designs, Rutti Tutti Retro Boutique, Punkabilly and Russ Ellingham.  It was a very enjoyable weekend and everyone had fun. We had entrants travel from as far as Essex and Newton Abbot to compete.  The winner was crowned – Miss Dolly May from Westbury and the Runner up was L'amour Le'Monde from Essex."
"Frome has more of an artistic edge than other towns I know and is more open and accepting of expression in many forms.  There seem to be a lot of options in Frome in all aspects of life, from coffee shops to schools, we live in a very diverse town. I have just launched Gentleman Ink UK and this is moving out of town and will be held at the Southampton Tattoo Festival in July."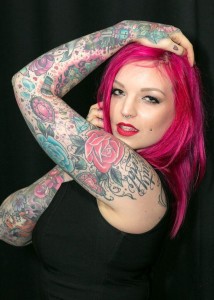 Alison Ward (mz-bones)
"I think it is fantastic that we finally have a Tattoo Convention here in the West Country, so I was thrilled to be asked to shoot their promotional images this year and last year too. I had a great weekend judging the Lady Ink UK competition and selling my posters and calendars and I'm looking forward to next year already!  Frome has always felt really friendly and welcoming whenever I've visited, I don't know if it's more open to alternative people than other towns or if it's just a lovely place to be in general. There are tonnes of great independent businesses in Frome, and since tattooing is becoming more mainstream it makes sense that artists would be interested in opening studios somewhere that has such a great local high street.
"I get my tattoos purely because I enjoy wearing them, I don't intend to make a statement with my look but I am aware that they make me stand out. My tattoos attract a lot of attention and people often comment that they've never seen such beautiful or intricate tattoos I'm really proud that other people recognise the quality of my work (and I'm always happy to point people in the direction of my favourite artists!). Since I started getting a little more heavily tattooed I've found plenty of work as a tattooed model; my image has been published internationally on magazine covers, I've appeared on Channel 4 and in national newspapers, as well as modelling for some amazing photographers and clothing brands, so it really has changed my life for the better in a way I never would have expected a few years ago. Modelling makes up a good chunk of my income and gives me the opportunity to travel and work with lots of exciting people, so I couldn't be happier. I've always been really careful as to which artists I ask to tattoo me and the placement and quality of the pieces I get, I really haven't experienced a lot of negativity surrounding being a tattooed person. "
To find out more about the event click here to read an interview with Organiser of the convention Tim Beale.