We interview Aveling Adventure, a mobile outdoor adventure provider based in Frome
Discover Frome talks to Aveling Adventure – a company based in Frome which brings outdoor adventure and activities to you. 100% mobile, they can set up in the location of your choice.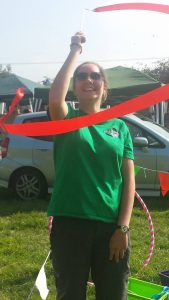 How did you come up with the idea for your business model?
I was happily sat in a festival field reminiscing about summers gone by, when I had, what I now think, was a flash of inspiration!
Both Cath and I have taught adventure sports for a very long time, and, as you can imagine, the beautiful summer months bring out the adventure in everyone – which makes attending festivals or long weekends away pretty near impossible for us.
These days they are still impossible but for a much better reason. We decided that if we had to work all through the summer we were going to work for ourselves and work at these events and festivals.
We mix this with working at schools and corporate events and created Aveling Adventure.
How long did it take to get off the ground?
A long time……
We came up with the idea in August 2014, registered the business, got really excited that we had a business, then got really panicky that we had a business…then decided we needed to learn everything!
We sat with YouTube open on one computer and our website on another, we listened to the advice that everyone was telling us – and tried to learn all we could.
We started to really work on the business in January 2015 and I remember my first few phone calls; nervously explaining every activity we had and stammering over the price. It soon picked up and that summer we couldn't have been busier. We learnt a lot, made a lot of mistakes (as one does when starting something new) and had an amazing year.
You have just gained accreditation as a Living Wage employer – how important was that for you and for the business?
Massively! Our staff are amazing and they deserve to be rewarded for all their hard work.
The living wage is something I have always supported. It is a fair wage; people shouldn't have to try to live on a pay-packet that just doesn't cover the basics needs.
The Living Wage Foundation is fantastic for promoting this to other employers. If my plaque or social media comment gets another employer thinking about better pay for their staff, then that (to us) is fantastic.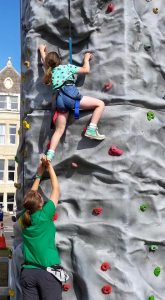 Aveling Adventure offers a diverse range of activities from Circus Skills to Tug of War – which is your own personal favourite?
Can I have two?
Climbing and Archery. I love both these activities and it's always great to see children participating.
The climbing wall really gets children (and adults) to conquer their fears and to push themselves. It doesn't matter if they get just off the ground or right to the top – the climbing wall can teach a range of skills from personal and emotional ones, to more physical skills such as balance and coordination.
Archery is probably my favourite session to teach, and my sessions are known for being very silly. Archery has a reputation of being quite formal and elitist. I want to show that you can progress and develop your skills whilst having fun and playing games. If you've ever heard one of my sessions I will talk about 'throwing unicorn poo and holding lollypops!'
Where are you based in Frome and why did you decide on that location?
Our company is based at the Forward Space workhub on Butts Hill. Here there are a number of smaller businesses from designers, charities, magazines, and computer experts. It is great to be surrounded by so many people who are passionate about their companies.
We don't do any of the activities there, however, it might be a little dangerous to shoot arrows in the lovely café there. As we are completely mobile we go to the event, schools or anywhere that people want us.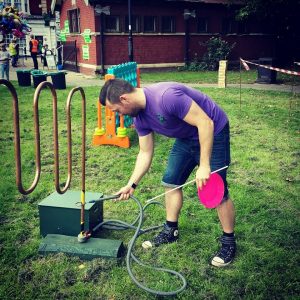 What inspires you to do what you do?
Children, and their passion for everything. I love encouraging a nervous child to take that next little step up the wall and the next and the next…until they reach the top and you can see how proud of themselves they are.
If you were a tree (or an animal) what kind of tree (animal) would you be?
A unicorn, I would always be a unicorn
What are your non-work habits that help you with your work-life balance?
Our dog Arrow, he makes sure I don't just wake up, work all day and then go to sleep. If my day hasn't been great, we go for a long walk and shout at trees!
As a recent start-up, what's the worst business advice you've ever received?
Oh I have a few but my favourites are:
"You don't want to do that – you want a steady income" actually no, I don't, I want adventure, to spend time with my beautiful family and have something that Cath and I couldn't be more proud of.
"Every business that starts at the moment, fails" well thanks for the chirpy piece of advice! Some people just like to moan and put a negative spin on things.
What's your favourite thing about Frome?
The people, their positivity, generous nature and quite often slightly bizarre ideas on fashion!