Have you visited Frome Museum recently?
No? Well, now is the time.
On Saturday 1 October, as part of the 50th anniversary celebrations the Museum will be launching their book "Frome Preserved: a Museum's History". More details will be released by the Museum soon. Keep your eye on their website.
The Museum is busy moving forward with plans to fulfil their business plan. In July, the Management Committee approved plans to develop a learning centre on the first floor (subject to funding being raised).
This summer the museum has had some very positive work experience/placements with young people from both abroad and here in Frome. Due to this success the museum will be building on their relationship with Frome College to welcome more six form students in 2017.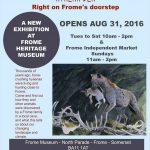 The Museum's current exhibition is: "Discover a Prehistoric Spotted Hyaena Den: Right on Frome's Doorstep". This is the first time this fascinating story of a cave discovered in the 1950's by a Stoke St Michael family – the Browne's – has ever been told.