The Independent Market is back – without the crowds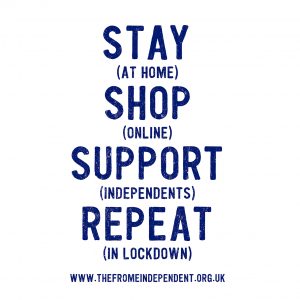 The first Sunday of the month would usually bring hundreds of people from Frome and further afield to the town centre to browse market stalls and enjoy delicious fresh food. While we won't see traders lining the streets for the time being, the Frome Independent is still here to help you support local makers and producers.
From April 3rd, you can visit the market any time from your own home. This virtual edition of the Frome Independent will connect you to the traders who would have been joining us in Frome this Spring.
Find your favourite stalls online and keep supporting them through a challenging time. A little treat delivered to your doorstep can make a dull day much brighter!
Head over to The Market whenever you like by visiting www.thefromeindependent.org.uk/the-market. Please show your support for all these talented and hardworking businesses if you can by sharing the love with friends and on social media.
The Frome Independent will be back on the streets of Frome as soon as it's safe. Until then, enjoy the virtual market from your sofa, stay safe and stay well.