New cookbook celebrates free food in Frome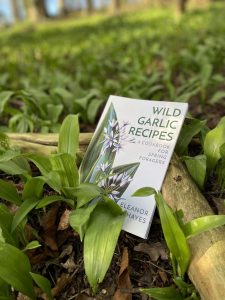 You may have noticed lots of green shoots poking above ground recently in woodland, parks and even by the sides of paths and roads in and around Frome.
The season of wild garlic – also known as ransoms, bear garlic or wood garlic – is upon us and we'll soon be inundated with this small but fiery plant.
It's not always obvious how to identify and prepare this wild bounty but local author Eleanor Hayes has made it easy in her new book Wild Garlic Recipes: a cookbook for spring foragers.
Eleanor says, "Wild garlic is a bit of an obsession for me! It is such a versatile plant and so easy to cook adding a vibrant colour and flavour to any dish. I wanted to help people access this abundant food right on our doorstep, and inspire people to get creative with it."
"Friends and family would often ask me for recipes and ideas as I am always banging on about wild garlic and I found I was writing them down again and again. The recipe book just evolved naturally and it became a fun project to get it published."
"Wild garlic is such a delicious plant," she adds, "and what's more, once you have eaten it, it is very easy to ensure people remain socially distant from you! Yes, wild garlic breath is pretty potent!"
The recipe book gives a useful identification guide with colour photos and descriptions to ensure you're collecting the right plant. Then a number of mouth-watering recipes of cold and hot food, plus condiments and sauces.
It has full-colour photographs for every dish and concise, easy-to-follow instructions so all cooks – no matter your ability – can get ideas on how to bring this tasty plant into your spring diet.
The cookbook is available for £10 at Hunting Raven Books, Frome's award-winning independent bookshop, via the author herself in Frome or on Amazon as paperback or kindle.
You can follow Eleanor and her wild garlic foraging and cooking exploits on Instagram.