Merlin Theatre to host moving & challenging play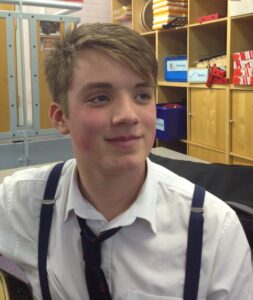 The Merlin theatre, Frome, is honoured to be one of the first venues in the country to host the full performance version of prolific playwright Mark Wheeller's moving and challenging play, I Love You Mum – I Promise I Won't Die.
Told in the words of his real family and friends, this stylish, beautifully-written piece tells the story of Dan, a popular South London schoolboy, who took ecstasy at an illegal rave and tragically died as a result of a lethal dose. Fast-paced, powerful and emotionally-charged, the play tells the true story of what happened to Dan, the choices he made and the impact on his family and friends – from tragedy to redemption.
This tour of I Love You Mum – I Promise I Won't Die is being supported by drug education charity The Daniel Spargo-Mabbs Foundation. Commenting on the play and support for the tour, the Director & Founder of the foundation, who is also Dan's mum, Fiona Spargo-Mabbs OBE, said:
"This is such an exciting development for us as a drug education charity, and also as Dan's mum and dad. We commissioned Mark Wheeller to turn Dan's story into a play as part of our passionate commitment when Dan died, to prevent any harm happening to anyone else's family from drugs. We really hope families will come together, and have conversations at home that help other teenagers keep themselves safe – but it's also a beautiful play and a fantastic production, creating an opportunity for anyone who loves great theatre to experience it, and to get to know our Dan."
Dan was cool, clever and smart. A talented, creative and "lovely boy" with a passion for helping others; always on the side of the underdog…and at 16, he had plans, plenty of them – just losing his life wasn't one of them.
Already known to many young people as a set-text at GCSE level, an abridged version of the story has previously toured many secondary schools across the country. Now, re-directed and designed as a complete, full-length piece, Elliot Montgomery, Octopus Dream Theatre Artistic Director explains, "It's an important, honest and deeply touching human story of how our choices can have such a huge impact on ourselves and our loved ones."
Recommend for adults and young people aged 14+, but open to all ages at parents'/guardians' discretion, I Love You Mum – I Promise I Won't Die comes to the Merlin Theatre on 25th May.