Heading into Frome in 2021
There's no denying that 2020 was a challenging year for all of us – while there is still much uncertainty in the year ahead, we can all help each other by providing a sense of community and connection. You can't visit us currently but here are our thoughts for making the most of the new year.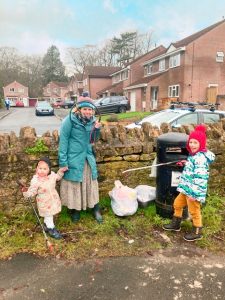 Stay connected and ready to help
One of the most heart-warming things about 2020 was seeing just how amazing our community is. Hundreds of people signed up to Frome Town Council's volunteer list to help with shopping for those shielding and delivering leaflets with essential information. Not to mention the big increases in volunteers for other organisations like Active & In Touch and Fair Frome.
In Spring the banners all over town asked you to "Check in on your five nearest neighbours" and Frome residents did this and more, with the neighbourhood network growing in size and strength as more neighbourhoods formed groups and worked together. So we are asking you, wherever you are to keep those connections going, check in on your neighbours particularly those who live alone or may be struggling. And volunteer!
Help is everywhere – ask for it
While helping others is fantastic, it can be much harder to ask for help and this year most of us needed a little extra support. Keep the information for those sources of support handy and use them as often as you need to: you are never alone. Give us a call on 01373 465757 if you're not sure how to get the support you need.
Enjoy the great outdoors
A lot of people have discovered a real love for Frome's green spaces, discovering new walking routes to enjoy, dusting off their bikes and heading outdoors. Some have taken litter picking equipment with them for a quick clean-up too.
If one of your aims is to try new things in 2021, how about challenging yourself to do all of our downloadable town walks? Even 15 minutes out in the fresh air can make a huge difference to your well being.
Keep learning
If you've had more free time you may have taken some online classes or picked up a new hobby. Our learning from home guide has lots of free learning resources, from 10 minutes watching a video to a few months gaining a new qualification. Whether it is a course, making a window for Window Wanderland, or learning a new language this is a great use of time.
Stay kind and notice the little things
With lockdown in front of us again it will be the smallest things that will get us through. A nice dog walk in the park or a funny picture from a friend.  We have all felt grateful to the essential workers who keep us going, from the cleaners who keep our hospitals safe to the person behind the till when we get our weekly shop.
Here in Frome in 2021 we want to keep that going by being grateful for what we have, expressing our thanks when we can and noticing something good in every day.  We hope that you can join us soon.
Posted January 8th 2021