Events Calendar Round-up: September 2023
Make sure September isn't just all about returning to school and work and fill your diary up with fun things to do!
We've selected a few highlights, but for the full run down, take a look through our events calendar or pop in to the Discover Frome Information Point.
Whatever it is you enjoy, we'd love to see what you've been up to so make sure you share it with us on Facebook or Instagram.
What's on throughout September

We welcome back the ever-popular Frome Independent Market to our streets, with an abundance of fresh seasonal produce, homeware and garden goods, jewellery, artwork, live music, good food and much more. This month's market welcomes The Newt in Somerset, who are organising children's harvest festival-themed arts and crafts amongst their offerings. This month's market will be supporting Frome Carnival.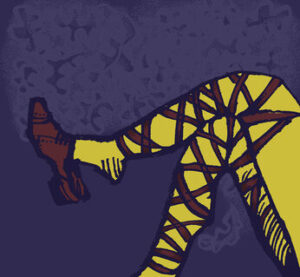 Illyria Theatre presents Twelfth Night, an evening of yearning romance, music and sheer joy – all performed on a stage inspired by those of the Elizabethan touring troupes.
Make sure to bring a picnic and something comfy to sit on, as this performance is taking place in the Merlin's ECOS amphitheatre. Maybe also a brolly!
Magpie Market is back on the first Sunday of the month at the Cheese and Grain. A market ideal for vintage and contemporary gifts, jewellery and homemade crafts and produce.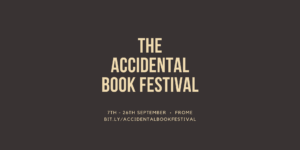 Winstone's Hunting Raven Books are back with another wonderful event for the lovers of all things literature. This time, a truly magical, impromptu book festival featuring best-selling authors and local literary talent. Introducing: The Accidental Book Festival…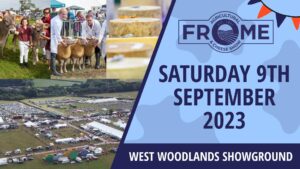 The Frome Agricultural and Cheese Show returns for another jam-packed day of traditional Agricultural Show activities. From over 1500 cheese varieties to equine showing to live music, there is sure to be something for everyone at this years' show.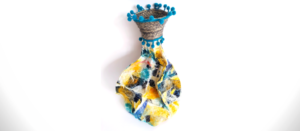 seam collective presents A Visible THREAD; an exhibition which explores the visibility and invisibility of thread. Through their unique perspectives and a diverse range of textile disciplines, eleven seam artists have created new works to stimulate thought, connection and conversation.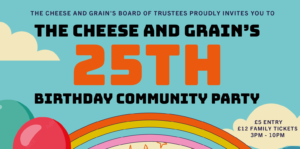 The Cheese and Grain are celebrating their 25th birthday and the wonderful community that has supported the venue since their doors opened in 1998 with a wonderful family friend event. With live music from Raggedy Men, Back Of The Bus, Big Dog, Bit Bigger, Frome Town Band, Frome Street Bandits, The Frukes, Jackdaws's Songbirds Choir, Frome Youth Choir, children's entertainment and more.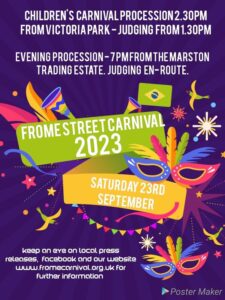 Bringing Carnival back to the lovely streets of Frome, celebrating the town's amazing community spirit with friends and family. There is a children's carnival procession earlier in the day before the main carnival event later in the evening, complete with floats, majorettes and music.
To see all the events coming up this month and beyond visit our What's On page.