Christmas Markets Guide 2021
Shopping bags at the ready, this weekend (4th and 5th December) is the time to get your Christmas shopping all wrapped up in Frome as there's a brilliant choice of markets showcasing the very best of local arts, crafts and produce.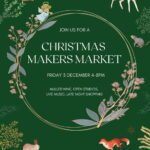 To kickstart the weekend head to the Black Swan on Friday night for their festive Christmas Makers Market. There will be mulled wine and other treats from The River House.
The Studio Shops will be open as well as the Round Tower Gallery and shop.
There will be live music to keep you entertained while you do a bit of late-night shopping. Find unique and beautifully crafted presents for your nearest and dearest. And support local and independent makers.
Friday 3rd December 4pm-8pm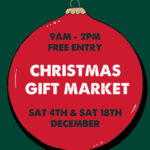 The Cheese and Grain are hosting two new Christmas markets this year full of wonderful things for Christmas including gifts, crafts and local produce.
Saturday 4th December, 9am – 2pm, free entry
If you can't make it this weekend, there'll be another chance to catch this market on the 18th December.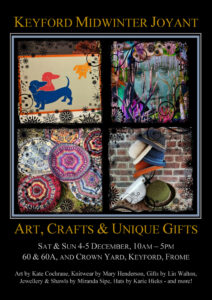 Art by Kate Cochrane, knitwear by Mary Henderson, gifts by Lin Walton, jewellery and shawls by Miranda Sipe, hats by Karie Hicks and more!
Located at 60, 60A and Crown Yard, Keyford.
Saturday 4th and Sunday 5th December, 10am-5pm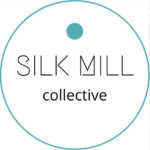 The Silk Mill Collective is a group of professional artists and designer-makers who work from their studios in The Silk Mill. This weekend the Silk Mill is hosting their Christmas fair with a chance to bag some unique Christmas gifts by the following:
Lynn Keddie – painter; Amanda Bee – painter; Clare Lloyd – jewellery maker; Miguel Blanco – painter; David Abram – drone photographer; Hogweed Pots – ceramics; Will Gould – painter; Alexander Brown – painter; Daines Atelier – fashion designer; Dan Morley – painter; Jenny Ragget stained glass artist; Bat Print Studio – print studio.
Saturday 4th and Sunday 5th December, 10am-5pm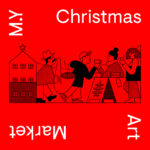 The Christmas Art Market will feature a variety of contemporary artists, makers and designers from across Somerset. Visitors will be able to buy Christmas gifts from their favourite local businesses while discovering new or emerging makers. Indulge in the festive atmosphere and enjoy performances from local musicians, whilst grabbing a bite to eat and a warm winter drink.
There will be stalls of varying sizes throughout the community yard and events space, featuring ceramics, jewellery, prints and artisan gifts. Makers' Yard will also welcome visitors to a handful of open studios to meet the resident makers.
Saturday 4th December, 2pm-7pm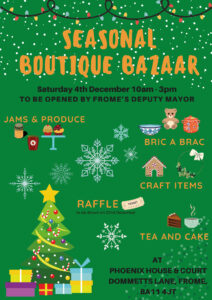 Phoenix House & Court are hosting a seasonal bazaar where you will find jams and produce, bric a brac, craft items, tea and cake as well as a raffle.
Saturday 4th December, 10m – 3pm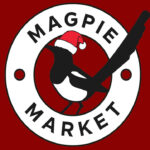 This monthly market offers a great opportunity to find vintage and contemporary gifts, jewellery, homemade crafts and produce.
Sunday 5th December, 10am – 2pm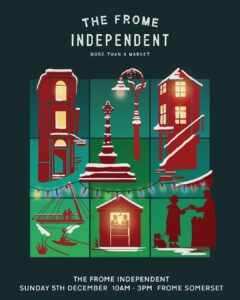 Back for the final market of 2021, The Frome Independent presents designers, makers, craftspeople and artists with everything from locally forged ironwork, ethical clothing and hand-blown glass baubles to jewellery and leather goods. Discover suitcases full of delights such as cards, prints, handmade candles and children's clothing.
There'll also be plenty of Christmas foodie treats on offer including cheeses, charcuterie, cakes, liqueurs and more as well as musical entertainment through the day.
Sunday 5th December, 10am-3pm
And of course, while you're in town don't forget to explore our wonderful independent shops to tick everything off your list.
For those wanting to stay in the warm, you can still support your local businesses by visiting our virtual Christmas market on Facebook which has over 50 traders selling everything from handmade cards and decorations to personalised gifts and foodie treats.
You can also visit our shopping section to explore our local retailer's online.