Wild Memories Nature Group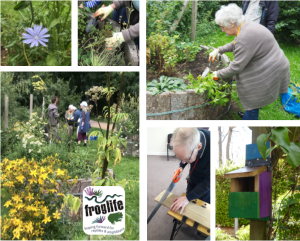 Wild Memories is a free nature group for anyone living with dementia or experiencing memory loss.
Sessions are held on:
Mondays 2pm-4pm at the Walled Garden at Mells
Tuesdays and Wednesdays from 11am-11pm or from 2pm-4pm at the Welshmill Roundhouse, Frome
Please call ahead to book your free space.
Sessions include anything from gentle walks, wildlife gardening, watching nature, making art and crafts projects, and anything else they can think of. The activities are guided by peoples' preferences and abilities, and the weather!
The group is welcoming and relaxed, and they always finish off with tea and biscuits. The sessions are free to attend, and free transport can be provided. Carers and family members are welcome to join too.
If you are living with dementia or symptoms of memory loss, or you are caring for someone who is, then please get in touch by email phone – 07949 572849.
Wild Memories Nature Group
Roundhouse, Frome and Walled Garden, Mells