The White Hart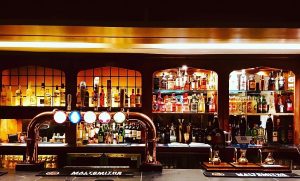 The White Hart Corsley, reopened in September 2019 following around 7 years of mostly closure and returned to it's original name. The building is owned by Lord Weymouth, Ceawlin Thynne, who is heir to the Marquess of Bath and will inherit the Longleat estate.
The pub features two restaurant areas at each end of the open plan interior with a proper drinking bar space in between. The large bar is covered with natural stone to match the floor, and around one side of the double-sided wood burning stove log fire are comfortable large red leather chesterfields and chairs. A darts board and a life size suit of armour add to the relaxed and slightly quirky atmosphere of this country pub.
The bar sports a trendy copper 'T' bar which lightens the dark stone tile bar top complete with funky wine label themed wall paper and real stone floors it gives a genuinely good warm vibe. The pub has a small beer garden and large cars parks.
The White Hart
Lane End, Corsley, BA12 7PH