Parsons Bakery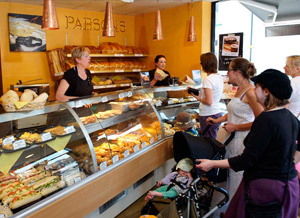 We make and bake every single one of our delicious savouries, each loaf of bread and all the cakes and pastries in our craft bakery each day.  We ship these out to our 53 stores situated in Bristol, Bath & North East Somerset, Cardiff, North Somerset, Somerset, Gloucestershire, South Glos,  Oxfordshire, Monmouthshire, Herefordshire, Berkshire, Wiltshire & Worcestershire.
Our aim is simply to make good things:
Wholesome, heart-warming pasties & sausage rolls that fill you up on a cold autumn morning.
Bread made by real bakers with simple, quality ingredients that taste just delicious.
Cakes & pastries made to delight you – proper treats!
Sandwiches put together, by hand, with our own freshly baked bread and local wholesome ingredients.
Parsons Bakery
5 Badcox, Frome BA11 3BQ