Merlin Theatre

Built in 1974, The Merlin Theatre a registered charity, is run by a small number of professional staff and a dedicated army of volunteers. It has a 240-seat auditorium with a smaller, outdoor, amphitheatre (ECOS) and is situated on the campus of Frome Community College.
The Merlin has a programme of theatre, dance, comedy, live literature and music by professional and non-professional companies, showing films and running regular classes and workshops and one-off, participatory projects.
The Merlin is a venue without pretension, where professional and non-professional artists, audiences and participants – new and established, feel at home. It is a venue where the quality of work is consistently high, where ticket prices are affordable and where performance and participation are valued equally.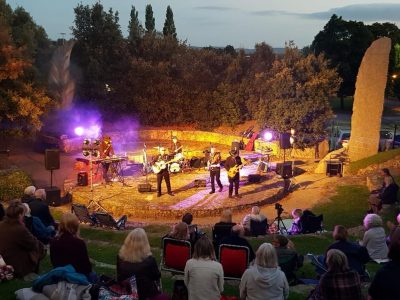 The Theatre's aim is to provide the people of Frome and the surrounding area with excellent, memorable experiences in the performing arts.  They believe that opportunities to enjoy the arts, whether as a member of an audience or as a participant in a production, a workshop or class, can significantly increase the well-being and quality of life of individuals, of communities and of society as a whole.
Theatre – As well as exciting live productions, look out for screenings from the National Theatre, the RSC and opera from Glyndebourne.
Film – Frome Film Club is a membership of like-minded film enthusiasts. They present a monthly programme of niche world cinema and quality independent films, with a delicious supper option also available.
Adult and Youth Workshops – The Merlin offers a variety of adult workshops from their ever popular weekly 'Stitch n Bitch' group, to classes in Ballet, Tap or Dance Yourself Fit with Tri.art Theatre School and Dance Academy. Actor and Director Mark McGann holds Screen and Acting Master classes on a regular basis.
In partnership with Tri.art they offer a wide range of activities including hip hop, theatre, dance and holiday workshops for children and young people aged six and over. They also give the opportunity for schools and groups to take part in exciting workshops from visiting professional companies and artists.
For more information browse our event listings or visit their website.
Merlin Theatre
Bath Rd, Frome BA11 2HG