Longleat
Stately home with extensive grounds and Britain's first Safari Park, featured on BBC's Animal Park.
Longleat House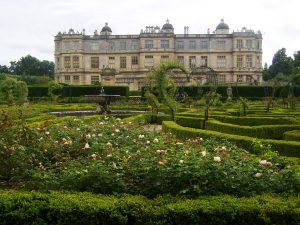 A trip at Longleat will provide the perfect day out, as well as the opportunity to step back into more than 450 years of history.
The house is widely regarded as one of the best examples of high Elizabethan architecture in Britain. It was completed in 1580 and is now occupied by the 7th Marquess of Bath. This house has also been home to 15 generations of the Thynne family.
Longleat House also features:
Art collected by 15 generations of the Thynne family
Guided tours including general house tours, butler, housekeepers and rooftop tours
Formal gardens first commissioned by the 1st Viscount Weymouth
Parkland 900 acres of stunning Capability Brown
Pleasure gardens featuring the Pleasure Walk
House exhibitions curated to commemorate important events
Main Square
Longleat is home to over 1000 animals, many of which reside in the Main Square. Here you can also find:
Jungle Cruise: a journey around Half Mile Lake, escorted by sea lions
Penguin Island: a happy colony of Humbolt penguins
Jungle Kingdom: the chance to get close to all sorts of exotic animals
Adventure Castle: the medieval fortress and adventure playground
Gorilla Colony: a lakeside retreat providing the perfect habitat for the gorillas
Animal Adventure: the animal handling hall offers another chance to get close to animals
Monkey Temple: stroll through and spot monkeys in the trees
Hedge Maze: one of the biggest hedge mazes in the world, with over two miles of path
Longleat Railway: climb aboard the Longleat railway for a unique view of the lakeside animals
Ray Bay: an open air pool where you can see the thornback ray
The Bat Cave: wander in and see a colony of free flying Egyptian fruit bats
Safari Drive Through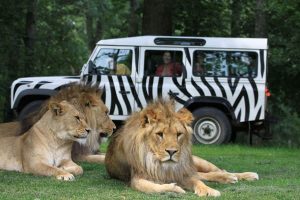 The incredible safari tour lets you spot a range of animals including an elephant, macaque monkeys, wolves, tigers, lions, cheetah and deer. You can also visit:
African Village and Walking Safari: a stroll along the specially designed viewing platform to spot even more animals
Big Game Park: an impressive herd of southern white rhinos as well as Bactrian camels, scimitar horned oryx, ostriches and Ankole cattle.
Longleat
Longleat, Warminster, Wiltshire BA12 7NW