Drum It Up Somerset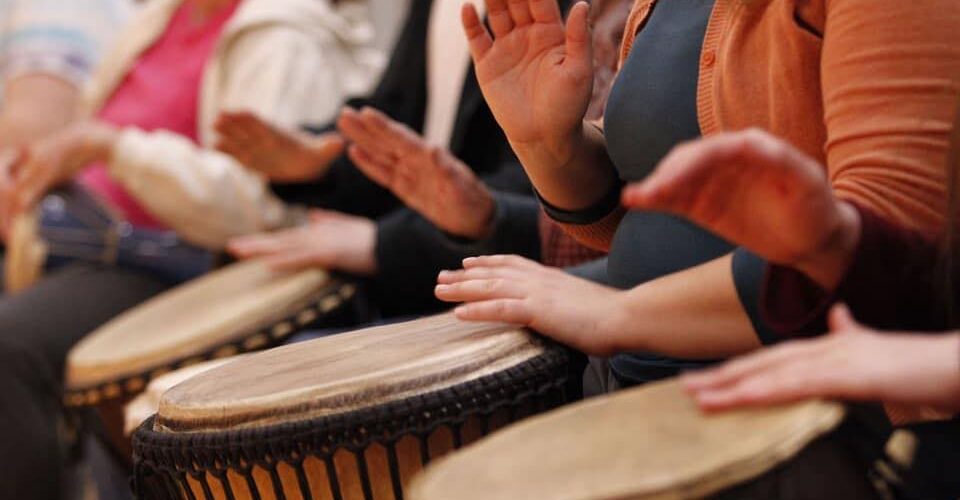 Drum It Up Somerset is based in Frome and run by Tanya Sherriff. They run drumming and team building courses, workshops, parties, drum circles, training, 1:1 teaching and performances.
Frome Community Drum Circle – 1.30pm-3pm last Saturday of each month
Drumming is a fantastic way to bring people together through the joy, laughter and energy that creating a unique in the moment group rhythm can bring.
Group music making has many positive affects on your well-being, brain and mood. Serotonin (feel good hormones) are released and endorphins flood your body when drumming making you feel happy, connected and joyful.
Add that to a group of Fromies drumming and the effects are magical! Community drum circles are for all ages and abilities and everyone is made to feel welcome. Tanya provides all the various drums and percussion needed for an afternoon of community music making and the best bit is no experience needed!
Adult Djembe drumming – 1.30pm-3pm every Thursday, term time only
Learn to play traditional African polly rhythms on good quality djembe's. Tanya will teach you technique, hand placement, different time signatures, traditional rhythms from Mali, Senegal and Guinea.
What's more it's really joyful, fun and no experience needed.
Drumming is a great way to bring people together through the connection, and energy that creating a rhythm in a group brings. Drumming also has health benefits too and can strengthen neuro transmitters in your brain, has a relaxing effect on your body and boosts your immune system. All abilities and levels welcome from beginners to advanced
Get in touch for more information.