Cordero Lounge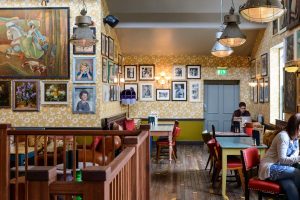 'The Lounges' are informal, neighbourhood food led cafe/bars open all-day everyday where families, friends, and locals can come for a coffee, a drink, or something to eat in a relaxed comfortable environment. The interiors are comfortable, inviting, and a bit eccentric.
With a swanky open plan main room and grand staircase it's hard to believe that in a previous life Cordero Lounge was once a Sports Direct and Lloyds Pharmacy.
Slap bang in Frome's West Way Shopping Centre, Cordero is a venue perfectly placed amidst the hustle and bustle of the town. She's a biggie too with bright and airy space for 300 'Loungers', including about 50 in our sheltered sun-trap courtyard. Stand out features include a mix of industrial finishes, beautiful vintage lighting and art deco mirrors.… Plus, of course, the famous 'budgie lady' who takes center stage upstairs.
Cordero Lounge
Cordero Lounge, 5 Westway Centre, Frome, BA11 1BS