Café La Strada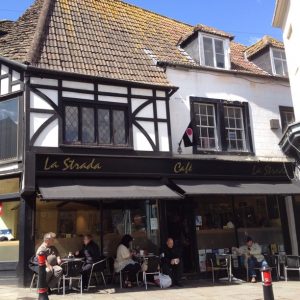 Cafe La Strada is a family run business that opened in 2002. Located on Cheap Street, La Strada feeds the hungry, thirsty and the soul.
They make the finest coffee from the illy grind and they also offer 'teapigs' tea which is a wonderful English company. Chilled drinks include presses, ginger beer, fresh juices and smoothies. Cafe La Strada are also fully licensed, they offer Peroni, Moretti, The New 'Wild Beer' from Westcombe and other ciders. Wines, prosecco are also served. Their 'Something Stronger Board' changes frequently.
As an added bonus, the cafe also features a gallery upstairs that features local artists.
Cafe La Strada is part of the You're Welcome Scheme. This means that you are able to use their loos and refill your water bottle at this venue without needing to buy further offerings.
Café La Strada
13 Cheap Street, Frome. BA11 1BN