Alexandra Howell Art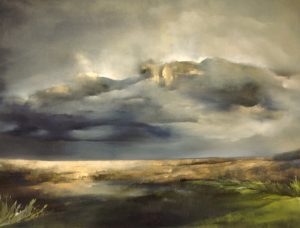 My family and I moved to Frome from London 6 years ago, we were drawn to Frome's individuality, a gem amongst so many carbon copied towns.
As an artist I loved it's desire to embrace and encourage all aspects of the Arts, making it a little oasis.
I am an artist now but I started off training and working as a fashion designer.
After 10 years of travelling extensively both in Europe and the Far East with my job I finally got the opportunity (thanks to my lovely husband) to put the passport down and pick up a paint brush.
​Obviously I haven't had a classic fine art training, but I think it sometimes helps, because if you don't know all the rules in the first place you don't realise you're breaking them!!!!  Freedom from restrictions is a great aspect of being an artist; of course it doesn't always work, but if you don't try you will never know.
One of the key aspects of my work at the moment is the use of reflective materials and paint. It's so exciting to see how a painting can change depending on the positioning or lighting. However this can be a two edged sword as the wrong position or light can be disastrous.
Alexandra Howell Art
89 Nunney Road Frome, Somerset