The Blue House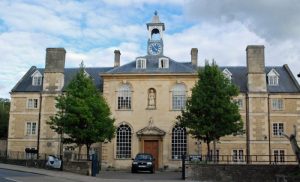 The Blue house was built more than 500 years ago, likely between 1465 and 1485, by William Leversedge, the Lord of the Manor, as an almshouse. It originally consisted of a hall, chapel and 12 chambers, along with 4 and a half acres of land.  It has survived for most of its lifetime on benefactions from the Frome people. As early as 1538, William Kyppinge left six cows for the relief of the poor of the almshouse.
The structure was rebuilt sometime before 1621, as can be understood from the communications of the Leversedges, who continued to provide trustees as late as 1710. A major benefaction, almost amounting to a re-foundation, took place in 1652 under the will of William Stafford, a wealthy London merchant. He left an annuity of £30 for the relief of those living in the almshouse. Although the almshouse initially sheltered only women, some effort was made in 1686 to aid men who had fallen on hard times.
By the early 18th century, however, the house was in decay. James Wickham, a local solicitor, came up with a plan to completely rebuild the house and incorporate a charity school to provide for the education of the local population. The new building was erected between 1720 and 1728, along with the re-construction of two arches of the town bridge, a guardhouse, various walls and a clock. The house was used as a school from 1728 to 1921. The sophisticated classical Georgian building intended for the school contrast with the plain recessed wings reserved for almswomen.
It was during this period that the house gained its name of the "Blue House" or "Blue School" from the knee-length blue coats worn by the school boys.
The charming statues of the two serving girls in a small courtyard at the front of the blue house come from the Keyford Home, which was from 1796 an almshouse for old men and a school for training girls in domestic service. It closed in 1956 when the Blue House opened its doors to men as well as women.
Despite facing decay in the end of the 19th century, and a bleak period after the Second World War, when it flooded regularly, lacked heating and was not up to modern standards of care, the Blue House has continued to survive. It has been restored and modernised in several instances, most notable in the early 1960s and in the early 1990s, largely thanks to the goodwill of the Frome people. Today, the Blue House is an independent foundation, running entirely on income from its ancient endowments, the modest "fair rents" it is allowed to charge to its inhabitants, and the proceeds of special events.
The Blue House
The Bridge, Frome, Somerset, BA11 1AP