Longleat
Seat of the Marquess of Bath, stately home with extensive grounds and Britain's first Safari Park, featured on BBC's Animal Park. There's plenty to do on a day out at Longleat:
Longleat House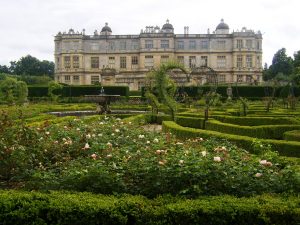 A trip through Longleat House will provide the perfect opportunity to step back into more than 450 years of history.
The house today is widely regarded as one of the best examples of high Elizabethan architecture in Britain and one of the most beautiful stately homes open to the public. Substantially completed by 1580 and now occupied by the 7th Marquess of Bath this incredible house has now been called home by 15 generations of the Thynne family.
Longleat House also features:
Art collected by 15 generations of the Thynne family and amassed into an incredible collection featuring paintings, tapestries, ornate ceilings and hand-painted wallpaper, as well as incredible furniture.
A rotating programme of guided tours including: general house tour, butlers and housekeepers tour, rooftop tour, and scandalous history tour
Formal gardens, first comissioned by the 1st Viscount Weymouth in  impressive Baroque style garden, filled with canals, parterres, statues and fountains and later redone in Rococo style. Nowadays much of the formal gardens, designed by the 2nd Marchioness in 1805, lie on the north side of the house.
900 acres of stunning Capability Brown landscaped parkland.
Pleasure gardens featuring the Pleasure Walk, are the perfect place to take a stroll and enjoy some truly beautiful natural surroundings. It's particularly pretty during spring due to the carpets of spring bulbs.
House exhibitions, curated every to commemorate important events and famous milestones in history.
Main Square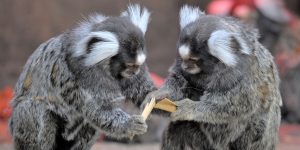 Longleat is home to over 1000 animals, many of which reside in the Main Square. Here you can find:
Jungle Cruise: a journey around Half Mile Lake, escorted by sea lions, where you can spot the resident hippos and cruise past gorillas
Penguin Island: a happy colony of Humbolt penguins
Jungle Kingdom offers you the chance to get really close to all sorts of exotic animals, including porcupines, giant anteaters, binturong, coati and otters
Adventure Castle: the Medieval fortress and adventure playground.
Gorilla Colony: a spectacular lakeside retreat provides the perfect habitat for Longleat's band of lowland gorillas, which can usually be spotted roaming around
Animal Adventure: in the Animal Handling Hall you can touch tarantulas and stroke snakes as well as guinea pigs and bunny rabbits, or view the parrot show
Monkey Temple: stroll through and spot marmosets and tamarins scampering around in the trees or running across a rope bridge
Little Explorers Garden: a colourful new play area inspired by native wildlife
Hedge Maze: one of the biggest hedge mazes in the world, with over two miles of path to get lost in
Longleat Railway: climb aboard the Longleat railway for a unique view of our spectacular lakeside animal residents
Ray Bay: an open air pool where you can see thornback ray
The Bat Cave: wander in and see a colony of free flying Egyptian fruit bats
Safari Drive Through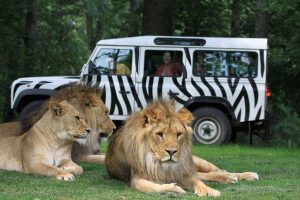 The incredible safari tour at Longleat lets you spot a range of wild animals including an elephant, macaque monkeys, wolves, tigers, lions, cheetah and deer. You can also visit:
African Village and Walking Safari:  a stroll along the specially designed viewing platform, up close and personal with Rothschild's giraffes and Grant's zebras and a walk alongside ring-tailed lemurs, red-necked wallabies, pygmy goats and warthogs.
Big Game Park: an impressive herd of southern white rhinos, as well as Bactrian camels, scimitar horned oryx, ostriches and our herd of Ankole cattle
Longleat
Longleat, Warminster, Wiltshire BA12 7NW