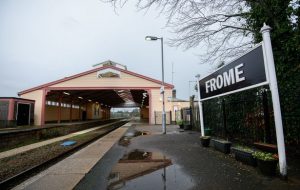 Frome railway station designed by T. R. Hannaford, an assistant to I. K. Brunel, and opened on 7 October 1850. This timber construction is largely unaltered and a rare example of a Brunellian through train shed still used for its original purpose. Listed Grade II
Isambard Kingdom Brunel is better known for the Menai Bridge and the doomed luxury liner, the Great Eastern. Though it is one of his less imposing works, for the trained eye it has several important features such as an overall roof.
Leonard Woolf, political theorist, travelled from this station to London on 11 January 1912 to propose marriage to Adeline Virginia Stephen. The resulting union bore fruit in The League of Nations, The Hogarth Press and the major works of Virginia Woolf.