Christ Church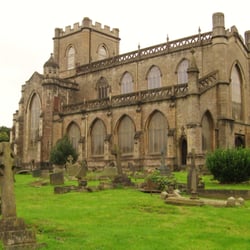 The church was built to serve the needs of the fast-growing town in the early years of the 19th century, and to take some pressure from the old parish church, St John's, which despite the addition of galleries could not hold all the Anglican worshipers in town.
One of the principal aims was to provide "free seats" for the poorer members of the town and as such it was first known as Frome Free Church.
The advent of Vicar Bennett to St John's in 1852 brought a new "High Church" ethos to Frome which is still upheld at Christ Church
The building is in a neo-perpendicular style, being detailed in traditional Somerset style. The church is now close to the original intention of having a cruciform plan, although the east end is rather unusual, the chancel being under the tower crossing and the east end being the sacristy under an open gallery. It is constructed of brick and stone rubble and faced with Bath stone ashlar.
Attractions at Christ Church include beautiful architecture, stained-glass windows, a large pipe organ and huge trees in the cemetery.
Christ Church
Christchurch Street West, Frome BA11 1EH