Café La Strada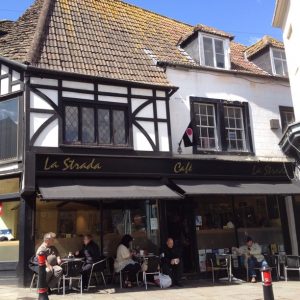 Born from a love of hospitality & community, Cafe La Strada was opened in 2002.
It is a family run business offering a warm welcome to all, housed in arguably the oldest retail property in Frome it has been furnished to a high contemporary standard with a definite continental feel and warm ambience.
Located in the picturesque pedestrian Cheap Street which has a spring fed leet running down the middle, Cafe la Strada feeds the hungry, thirsty and the soul!
Cafe La Strada makes the finest coffee from the illy grind. Our baristas are all trained to the highest standard giving an understanding & trust between coffee, water, milk and customer, each cup is lovingly made. The Ethisphere Institute named illy on its Worlds Most Ethical 2013 Companies List, recognising the company's achievement for high standards in corporate, social & sustainability governance.
We also offer tpigs tea which is a wonderful English company, with 'temples' of tea that are full of flavour…the liquorice & peppermint is wonderfully refreshing over ice with a sprig of fresh mint.
Chilled drinks include presses, ginger beer lemonade, fresh juices and smoothies. Senso milkshakes are made from our fab ice cream… the salted caramel with chocolate seems to be the flavour of the moment.
We are also fully licensed! Peroni, Moretti, The New' Wild Beer' from Westcombe & ciders. Wines, Prosecco's & more. The 'Something Stronger Board' changes frequently.
As an added bonus, Cafe La Strada boasts a gallery upstairs, which features local artists. So you can even get a glimpse of the amazing Frome arts scene while eating!
Cafe La Strada is part of the You're Welcome scheme.  This means that you are welcome to use their loos and refill your water bottle at this venue without needing to buy further offerings…
Café La Strada
13 Cheap Street, Frome. BA11 1BN