Archangel
Situated amongst the steep hills and cobbled streets of the historic market town of Frome, the four star-rated Archangel dates back as far as the Domesday Book and was first recorded as an Inn in 1311. The listed building now boasts a free-floating glass restaurant where you can dine on sumptuous and seasonal dishes before retreating to one of our 10 quirky rooms full of old-world charm.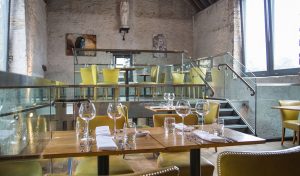 This is one of the oldest buildings now used as a pub in Frome. Though it may date to as far-back as the 14th century, it was much altered in the 18th and 19th centuries. There has certainly been a pub, at that time called the Angel, in this location at least since 1665.
For more information on the history of the pub, see The Historic Inns of Frome.
Archangel
1 King Street, Frome. BA11 1BH