Frome's unique Valentine's tradition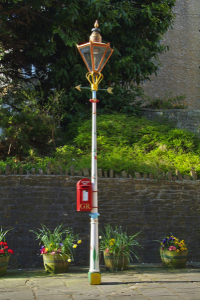 One of Frome's most romantic landmarks, the Valentine Lamp is located at the top of Catherine Hill.  The only working gas lamp in Somerset, and dedicated to the memory of St. Valentine, the lamp is lit at a special ceremony every Valentine's Day.
A six-paned, three mantle gas lantern on a column cast in a local foundry, the lamp is set amidst a heart-shaped ring of cobbled stones.  A 'love seat' nearby catches the glow of the gas lamp, looking down the historic cobbled street of Catherine Hill.  The lamp also has a renovated George V post box attached, for your love letter or Valentine card.
Celebrated for over 25 years, the lamp was painstakingly and lovingly restored by Reg Ling. Each year Reg, dressed in period costume, signals the start of the ceremony by setting off a rocket at 5.30pm. Then at 6pm he starts the lighting ceremony using an original Victorian lamplighter's pole.
There will be mulled wine for adults and fresh fruit for the youngsters to enjoy before heading off for the rest of your evening.
The upkeep and maintenance of the lamp is supported by 'Friends of the Valentine Gas Lamp' relying on voluntary donations to keep this unique landmark in perfect condition for romantic generations to come. Visit the group's website to find out more or to make a donation.